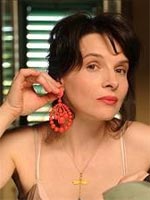 Okay, so that took longer than I expected. I had hoped to get this post up last night, but instead got quite easily talked into a night on the tiles with a band of merry Film Dweebs led by James Rocchi — not the wisest idea with a morning flight to catch, but by the time we found ourselves in a friendly 3am chat with Atom Egoyan about our respective issues with the ending of "Chloe," that hardly seemed important. (Name dropped and duly picked up. Apologies.)
Anyway, after a smooth morning's traveling, I am now writing to you from my North London living room — not quite as glamorous as the Croisette, though surprisingly, just as sun-splashed.
In a few hours, Cannes 2010 will come to a close as Tim Burton and his fellow jurors reveal their selections for the best of the fest, perhaps shedding some light on the burning question I've asked myself after every Competition screening: "But what does Kate Beckinsale think?"
(More analysis, and full list of predictions and preferences, after the cut.)
We'll probably never know exactly. As anyone who has read an account of Cannes jury negotiations — I recommend William Goldman's wonderfully gossipy "Hype and Glory" — knows, festival awards are a complex and inscrutable business, frequently born of compromise and passionate argument. This isn't a mass organization like the Oscars, where groupthink easily takes over. This is just nine people fighting it out in a room, and the results are often idiosyncratic, going against the grain of critical consensus.
As such, it's a fool's errand to try and predict Cannes awards, but I do it every year anyway. Only once have I correctly called the Palme d'Or champ. I rather hope to maintain that losing streak today.
Yesterday, the title being bandied about most in connection with the top award was Xavier Beauvois's "Of Gods and Men" — that Noble, Important and Slightly Dour true-life story of the 1996 massacre of a group of French monks in Algeria  that I couldn't finish.
I have yet to encounter a critic with much affection for it, but it is one of the most broadly respected films in Competition, and Cannes juries favour all-bran prestige fare more often than we might like to think. ("The Wind That Shakes the Barley," anyone?) If Beauvois's film doesn't win the top prize, count on it showing up somewhere in the mix — a joint Best Actor award for its weighty ensemble (including French stalwarts Lambert Wilson and Michael Lonsdale) is a distinct possibility.
If the critical majority had its way, the winner would be Apichatpong Weerasethakul's magical-realist mindwarp "Uncle Boonmee Who Can Recall His Past Lives" — though I suspect the jury might be wary of handing top honors to such an esoteric niche item. I expect some form of runner-up prize to assuage to sizable Thai Joe cult.
You all know by now where my loyalties lie, but quite apart from the fact that my favorites always seem to come away empty-handed at festivals, I sense Abbas Kiarostami's "Certified Copy" is too bijou and academic a piece to inspire the full support of the jury. The fact that Kiarostami already won the Palme back in 1997 doesn't help his cause, though some are suggesting that the current Iranian crisis might make jurors sympathetic to the filmmaker. It wouldn't be the first time politics has entered the equation at Cannes.
I fully expect some form of recognition for Mike Leigh's superb "Another Year," which has arguably the fewest detractors of any film in Competition, though I suspect the jury might think it too reminiscent of previous work to take the gold. Ensemble standout Lesley Manville is the punters' favourite for Best Actress, though as I wrote a few days ago, she's in a tight contest against the lead in another of the festival's most well-received films, veteran Korean actress Yun Jung-hee in "Poetry." The latter's return to the screen after a 15-year absence makes for a good story — but will rewarding a Lee Chang-dong film for its strong female lead feel a little too 2007  for the jury?
Meanwhile, don't write off a potential sentimental upset for Juliette Binoche, who has never won at Cannes and does some of her best work in the Kiarostami film — even those unpersuaded by the film hold her performance in high regard. And what of "The Housemaid," a film which, despite mixed reviews, inside chirpers claim Tim Burton is very high on?
There are certainly more options to consider here than in the bizarrely weak Best Actor race, which most believe to be something of a fait accompli for Javier Bardem's committed (but hardly revelatory) work in "Biutiful." Here's where I stray very far from the herd in my predictions — there's always one head-scratching Cannes prizewinner that nobody sees coming, and in picking the solid Elio Germano from the decidedly unsolid "La Nostra Vita," I'm trying to be that nobody.
"Biutiful" may have its eyes on a bigger prize, however: the rumour circling the Croisette this morning as I left town was that director Alejandro González Iñárritu has been advised to stick around for tonight's ceremony. It wouldn't be the first film to overcome heated critical disagreement to take the Palme d'Or, but I profoundly hope it doesn't — not just because it's no "Dancer in the Dark," but because I fear the amped-up critical infighting such a result would incur. I'm worried enough to consider changing my bet, but I'll stick with the list I drew up last night. It's Cannes, after all… I'll be wrong either way.
With that, my predictions and preferences for tonight's awards. (The jury is encouraged to spread the wealth; I am under no such obligation.)
WILL WIN
Palme d'Or: "Of Gods and Men," Xavier Beauvois
Grand Prix: "Uncle Boonmee Who Can Recall His Past Lives," Apichatpong Weerasethakul
Jury Prize: "The Housemaid," Im Sang-soo
Best Director: Mike Leigh, "Another Year"
Best Actor: Elio Germano, "La Nostra Vita"
Best Actress: Yun Jung-hee, "Poetry"
Best Screenplay: Mathieu Amalric, Marcello Novais Telles and Philippe Di Folco, "On Tour"
SHOULD WIN
Palme d'Or: "Certified Copy," Abbas Kiarostami
Grand Prix: "Another Year," Mike Leigh
Jury Prize: "Poetry," Lee Chang-dong
Best Director: Abbas Kiarostami, "Certified Copy"
Best Actor: Mathieu Amalric, "On Tour"
Best Actress: Juliette Binoche, "Certified Copy"
Best Screenplay: Abbas Kiarostami, "Certified Copy"
Special Jury Prize: Christophe Beaucarne, cinematography, "On Tour" and "Outside the Law"
Your thoughts? The comments are your playground.