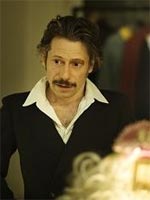 The big guns, the Competition jury, announce their prizewinners tomorrow night, but ahead of that, there are a host of smaller, independent juries making their voices heard.
I've just returned from the Un Certain Regard award ceremony, a short, sweet tuxedoes-and-sneakers affair presided over by UCR jury president Claire Denis. As delighted as I was to see one of our greatest living filmmakers in the (tiny) flesh, I was less pleased with her team's selection — by handing their top prize to Hong Sangsoo's wispy romcom "HaHaHa," they continued an increasingly disconcerting trend whereby films that I walk out of at major festivals are handsomely rewarded. (Hey, I wasn't alone: James Rocchi bailed too.)
The Ecumenical Jury got that memo, too, handing their top prize to another film I didn't finish, Xavier Beauvois's "Of Gods and Men." Of course, that was a gimme — if you don't know, the Ecumenical Jury Prize was established in 1974 by a group of Christian film professionals to reward expressions of faith and/or humanism in Competition. How was the true-life tragedy of monk massacre in Algeria not going to win?
The Ecumenical Jury also singled out Mike Leigh's "Another Year" and Lee Chang-dong's "Poetry" for Commendations — I have a hunch all three of their picks could find themselves rewarded at the big show tomorrow.
Less so the choice of the FIPRESCI Jury — comprised of assorted international film critics — which sprung a surprise by selecting Mathieu Amalric's freewheeling backstage dramedy "On Tour" as the best film in Competition. I'm quite pleased to see some credit going to one of the most purely enjoyable films in the lineup, but not all critics rate it as highly. Last year, FIPRESCI aligned with the main jury in laurelling "The White Ribbon"; this time, I have a feeling they'll part ways.
Today's awards:
FIPRESCI JURY AWARDS
Competition: "On Tour," Mathieu Amalric
Un Certain Regard: "Pal Adrienn," Agnes Kocsis
Directors' Fortnight: "Todos vos sodes capitans," Olivier Laxe
UN CERTAIN REGARD AWARDS
Un Certain Regard Prize: "HaHaHa," Hong Sangsoo
Jury Prize: "Octubre," Daniel and Diego Vega
Performance Prize: Adela Sanchez, Eva Bianco and Victoria Raposo, "Los Labios"
ECUMENICAL JURY AWARDS
Ecumenical Jury Prize: "Of Gods and Men," Xavier Beavois
Commendations: "Another Year," Mike Leigh; "Poetry," Lee Chang-dong