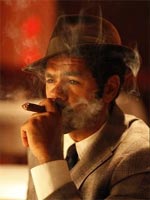 I began my final day in Cannes with some dutiful, and not greatly anticipated, ticking of boxes, taking in my last two Competition screenings back-to-back this morning.
That brings my final tally to an elegantly symmetrical 14 and 1/4 films seen of the 19 selected. (That sneaky fraction represents my fatigue-induced walkout on the bookies' Palme d'Or favorite "Of Gods and Men." Quelle dommage.)
I was shooting for a 100% record when I arrived, but scheduling conflicts and screening shutouts conspired against me. As it stands, of the ones I missed, only "The Housemaid" is really nagging at me.
I'll post some thoughts on the runners and riders for the Competition gold later today; tonight, however, brings the Un Certain Regard award ceremony, where Claire Denis (hurrah) and her jury will reveal what they deem the best of the festival's B-league. I'm doing even less well on the UCR front, having caught only 11 of the 19 selections, though the promising-on-paper lineup has generated surprisingly few talking points across the festival.
Of the titles I've seen, I'm officially rooting for "Blue Valentine" and "Life, Above All" — but given that the Un Certain Regard winner is granted a repeat screening after the ceremony, I'm strategically hoping for Xavier Dolan's well-buzzed, IFC-acquired "Heartbeats" to triumph, so I might finally get to see it after two foiled attempts. I will, however, be forced to revise my unreservedly high opinion of Mme. Denis if "Chatroom" gets anything. (I'm not too worried.)
As for this morning's Competition double feature, it handily bound two sceptically regarded follow-ups to previous Cannes prizewinners — though only one of them, it turned out, was actually a formal sequel. It's still one more than the festival needed.
"BURNT BY THE SUN 2: ARMED AND FABULOUS" (*1/2)
Sprinting with two left feet in a last-minute, neck-and-neck race against "Tender Son — The Frankenstein Project" for the title of Most Embarrassing Competition Entry is Nikita Mikhalkov's lumbering, cacophonous and frequently hilarious "five years later" follow-up to his 1994 Grand Prix (and Oscar) winner.
The first film, if you haven't seen it, is a elegiac, quasi-Chekhovian melodrama — mapping the dissolution of well-to-do family against the backdrop of the Stalinist purges — of which I am enormously fond. The new film forces me into a reassessment of that affection, rather as you might cool on your grandmother upon learning she has a secret love child named Robert Mugabe.
The problems with "Burnt By the Sun 2" begin with its awkward backtracking on the family's fate described in the epilogue of its predecessor; it's one thing for the "Friday the 13th" franchise to resurrect key characters on a whim, but it's quite another for self-serious Russian historical dramas to do the same. Anyway, Ockham's razor demands we accept that protagonist General Kotov (Mikhalkov himself) is alive and well and kicking Nazi ass as part of a voluntary battalion, while his now-grown army-nurse daughter (once again, Mikhalkov's own daughter Nadia) weepily searches for him.
Establishing this narrative discontinuity apparently frees Mikhalkov from any stylistic obligation to the original, as the latter's literate tone and intimate narrative focus fall by the wayside while the director pitches his tent somewhere between David Lean and high-minded Michael Bay. It's not all derivative, mind: this is the first Noble War Movie I've seen where heroic fighter pilots fly low in a quite literal attempt to shit on the enemy captain. (They miss, sad to relate.)
Technical contributions are economically ropey — one epic battle conveniently takes place in fog, giving heavy crossfire the appearance of flashing Christmas lights glimpsed through net curtains — while much the same description goes for the dialogue. "Let me baptize you," a priest unnecessarily (and perhaps rather self-servingly) implores Kotov's daughter as they jointly cling to a lifebuoy in the ocean. "But I'm a pioneer!" is her panicked reply. Mikhalkov closes out this fiasco with a subtitle boldly proclaiming "End of Part One": by any measure, less a promise than a threat.
"OUTSIDE THE LAW" (***)
This would be the not-quite-a-sequel, then. That should hopefully ease the curiosity of fans of Rachid Bouchareb's 2006 Oscar nominee "Days of Glory," who — without getting too spoilerrific on the first film — could be forgiven for wondering how the characters could be, uh, revived. Bouchareb, however, isn't as fearless a fantasist as Nikita Mikhalkov: his latest, "Outside the Law" reuses the same actors and character names in an alternative narrative context: rather like Michael Haneke's oft-recycled "Georges and Anne" personas, but with better intentions.
Where the superb "Days of Glory" examined the tension between indigènes (native French-speaking North Africans)and white Frenchmen fighting on the same side of WWII, the new film relocates that racial conflict to the Algerian independence movement on the 1950s; once more, a fraternal band of fighters, played by the same ensemble, unites behind the cause after some initial disharmony.
Critics on the Croisette have come down rather hard on the film, which is certainly a more middlebrow proposition than the Competition favorites, and considerably more lacquered than "London River," the director's underseen previous feature.
But I found much to commend here: Bouchareb's screenplay is a tad speechy and overextended, but the straight-arrow storytelling is as stirring as it is old-fashioned, and the filmmaking is of the highest caliber, with DP Christophe Beaucarne lending proceedings a rich gilt sheen. (Beaucarne is a similarly strong asset to another Competition entry, Mathieu Amalric's "On Tour" — could a Technical Achievement prize be headed his way?) Bouchareb is a homely stylist, but in a Competition lineup this uneven, there's something to be said for a safe pair of hands.
Later: A report on Un Certain Regard winners, and Palme d'Or predictions.