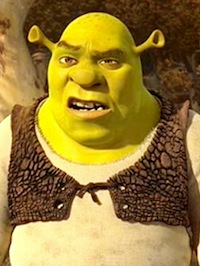 *All historical figures cited are adjusted to today's dollars.
That fat, green face to the right is the most successful animated character in the history of film. You guys have made him an icon of cinema greater than Don Corleone, Marty McFly and Jack Sparrow as far as box office receipts are concerned. Whatever hilarious adventure he undertakes with his wise-cracking donkey sidekick, you are game for. His latest batch of hijinks comes with the laziest pun title ever and a general feeling of distaste from the third installment.
"Shrek Forever After" is the big debut this week and will easily win the weekend. There hasn't been a big family film released in eight weeks (Sorry Brendan Fraser) and the market is ripe for a new blockbuster. The thing is opening in every theater across the country with 3D prices ballooning up to $20 in some places. All the ingredients are there for the film to best the $140.5 million opening of "Shrek the Third." Except that people generally thought "Shrek the Third" was terrible. How these discerning viewers found anything different at all from film to film in this series is beyond me, but I gave up after the wretched first so what do I know?
Any time a franchise entry disappoints, the next film takes a hit and so I'm thinking that "Shrek Forever After" will hover around the $100 million mark for the weekend. Could do $95 million or could do $105 million, but nowhere near that $140.5 million. Regardless, the film will make oodles of money for DreamWorks and Mike Myers will continue to confuse doing a Scottish accent for funny in more films.
The only other film taking a swipe at the box office this week is "MacGruber." The Betty White episode of "Saturday Night Live" was the first one I saw in years and served as my introduction to this character. I've never seen "MacGyver," but I get the gist of the joke and it's not one I'd be particularly keen on seeing for an hour and a half. "SNL" characters are generally poison at the box office with the last attempt being "The Ladies Man" in 2000. That opened with a miserable $8.0 million en route to a $20.1 million finish.
A better comparison might be the not quite officially affiliated with "SNL" product, "Hot Rod." Opening in the summer of 2007, the daredevil comedy took in $6.1 million opening weekend and $16.1 million total. Needless to say, not much is expected of "MacGruber." I'll say $8 million for the weekend and a massive blow to all (both) Val Kilmer fans desperate for the guy to get back on the A-list.
"Robin Hood" should find itself with a better hold than "Iron Man 2." Word of mouth has been fine among the target audience and they won't be hurt by the two films opening. A 45% dip would give it another $20 million for the weekend and anything less than that will be a let-down for Universal.
"Iron Man 2" could lose another 50% of its audience and land with $26 million, continuing its slow course to $300 million.
What are you guys seeing?