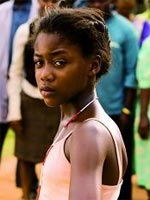 "It is finished so soon?" asked the chipper French festival volunteer manning the theater doors as I slunk out of Hong Sangsoo's "Hahaha" just before 11pm. No, I explained — it had a good hour left to go.
"Is it that boring?" he asked. No, I explained — it wasn't that boring. Modestly boring. Sweetly boring, if you will. But it wasn't making any effort to grab me, even gently.
So, as my bum knee began to twinge in protest at yet another couple of hours locked at a 90 degree angle, I realized that what I really needed was to be outside a movie theater for the rest of the night, to buy a Grand Marnier ice-cream cone from the excellent gelateria by the Grand Palais, and to go eat it barefoot on the beach. I told the volunteer as much, minus a few extraneous details. He nodded sympathetically.
"I understand," he said. "I've watched some of the films. What you're saying is that they have no … no balls, you mean?"
Ladies and gentlemen, a great critic is born.
This exchange put a suitably jaded cap on a low-key but not unpleasant day of festival-going: only 2.5 films caught, with the early afternoon given over to tourist wanderings and a delightful fish lunch — held annually by the Mayor of Cannes in honor of the festival press —  held outdoors in the shadow of the town's hilltop Notre-Dame d'Espérance church. (Yes, the press need honoring, apparently, and why would I argue?)
After that, sated with food and cheap rosé (the official drink of Cannes, it would appear), I rolled back to the Palais for my first film of the day — and, wholly unexpectedly, the first film of the festival to give me naggingly certain Oscar vibes. Not that I don't think we'll be talking about loftier names in bigger categories, like "Another Year," all year — and not that I don't appreciate the futility of declaring sure things in, of all places, the foreign-language race — but right now, I'd bet the house on South African director Oliver Schmitz securing an invite to the Kodak next February. Sometimes you just get a feeling. It's usually wrong.
"LIFE, ABOVE ALL" (***1/2)
It speaks to our general cynicism, and a particular blind spot of the Academy, that the second I Twittered my prediction of Oscar success for this artlessly moving South African social drama, every reply I got was in the "is it that bad" vein. On the contrary, it's very strong indeed: a slightly soft lob to conscientious liberal audiences with a weakness for adorable, poverty-stricken kids, but more alert and tough-minded than any equivalent title to emerge from the country in the last decade. For Oliver Schmitz, it's a welcome (and much improved) return to feature filmmaking 10 years after the worthy but wonky "Hijack Stories," and nearly scaling the heights of his exemplary 1988 debut "Mapantsula."
Carrying the film on her slender shoulders is young Khomotso Manyaka: terse, resourceful and thoroughly winning as a 12 year-old girl in a rural Highveld village who is left holding down the fort when her baby sister dies and her mother withdraws completely. It doesn't take long to figure out that this is but one story representing many in the wake of the ANC government's appalling handling of the AIDS epidemic — indeed, the film features an end-credits dedication to the country's 800,000 orphans of the disease — but Schmitz largely avoids pedantic moralizing to observe instead the rituals and reservations of community, a large faction of which is still in denial of the crisis decimating their numbers.
The film wobbles a little when it lets characters talk about about the issues at hand, rather than merely letting their circumstances do the work, but this is stirring, upsetting material all the same — richly lensed by Bernhard Jasper, with a sharp sense of locale and landscape, not least in a brief, vivid sequence depicting the onset of one of the electrical storms so familiar to the area in summer. That's a fairly specific virtue, but "Life, Above All" is broadly resonant enough to merit international exposure beyond the Croisette.
"TENDER SON — THE FRANKENSTEIN PROJECT" (*1/2)
My word, isn't Budapest pretty? And aren't its outlying snowy landscapes imposing and impressive? I totally want to go there someday. And with that, any warm feelings I could conjure for actor-writer-director Kornél Mundruczó's excruciating update of Mary Shelley's "Frankenstein" are entirely used up.
Substituing a neglected, doleful-looking 17 year-old boy for the monster of the novel, the film hews pretty close to its literary template without ever engaging or unpacking the psychology of its protagonist or his parents — even glib nature-versus-nurture arguments are too much effort when the film is wholly preoccupied with lighting the snow just right, and making sure all victims die in the most visibly grisly way possible. The worst thing I've seen in Competition, and in a year like this, that's almost an achievement.
"CAMERAMAN: THE LIFE AND WORK OF JACK CARDIFF" (***)
Exactly what it says on the tin: a linear, meat-and-potatoes trip through the career of arguably the cinema's greatest ever cinematographer, sparked by the affable, illuminating presence of the late Cardiff himself in interview clips and, of course, ample footage from those gorgeous films: from his career-defining collaborations with Powell and Pressburger to his time as a jobbing Hollywood studio DP to his own wayward directing career. (Some of the clips, though, raised questionmarks for me: I know I've seen Htchcock's "Under Capricorn" in gleaming condition, so why does the film look a little green and muddy here?)
Director Craig McCall humbly keeps the focus on Cardiff rather than his own experience of Cardiff, though the film is perhaps a little over-reverent in how it sidelines the trashy delights of "Girl on a Motorcycle" and "Rambo." As such, it's one of the few films playing at Cannes you wish could have been longer.
Tomorrow: My last full day in Cannes, in which I'll hopefully catch up with some leftovers, report on the Un Certain Regard winners and, finally, offer up some predictions (and preferences) for the Competition awards. Stay tuned.