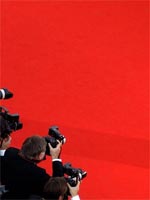 Today's Cannes schedule has only allowed for one-and-a-quarter films, which at least means I'll be able to catch up on yesterday's review backlog later. For now, though, it's off to one function I didn't have to work very hard to get invited to — the London Film School (my alma mater) reception, with Mike Leigh as guest of honor.
Then it's a dip into the Edinburgh Film Festival party — which can be counted on for good chat and free whiskey — before I get myself all tuxed up and hit the red carpet for tonight's gala screening of "Certified Copy." (Yes, I'm seeing it twice in two days — it's that good.) So I'm afraid there won't be more reviews for a good few hours, though you can catch my Twittered thoughts on Sundance-to-Cannes indie hit "Blue Valentine."
Two things to plug before I go, however. One disadvantage about being on the ground at Cannes is that I haven't the time to read and round up fellow critical reactions, so indieWIRE's criticWIRE Cannes Guide, collecting the scores of a wide range of critics and bloggers, is something of a godsend.
They've kindly invited me to participate this year — so if you struggle sometimes to decipher my star ratings (perhaps Sasha Stone was right and I was too reserved on "Another Year"), you find my wider-ranging letter scores here. I've always have more of a head for letters than numbers.
Finally, following yesterday's amusing disagreement between Jeff Wells and myself (among other critics) on the merits of "Certified Copy" and "Biutiful," USA Today's Anthony Breznican has turned the matter into a meaty story, amping up the drama a notch:
I asked Wells what he thought [of "Certified Copy"] and got a face full of buckshot. "Guy Lodge said he loved it," I replied.

"Guy Lodge?" Wells replied, looking toward him across the room. "Guy Lodge lives on a cloud."

At this point, Lodge let out a primal hiss and lunged across the tables to begin choking Wells to death with a USB cable…
Read how it ends here.