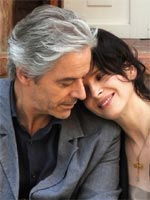 By the halfway-mark of the festival, Cannes can do irrational and frankly cruel things to your head. Having slunk back to my apartment at 3am after a merry night of wine and pizza some fellow bloggers — only to find myself locked out of said apartment in a cheap sitcom twist — I planned to treat myself to a lie-in while my roommates, Slant's Matt Noller and the A.V. Club's Mike D'Angelo, dutifully rose for the 8.30 press screening of Xavier Beauvois's Competition title "Of Gods and Men."
Minutes after the door clicked shut behind them, however, I found myself sitting bolt upright in bed: what if was making a terrible mistake? What if "Of Gods and Men" turned out to be the unforeseen "4 Months, 3 Weeks and 2 Days"-style masterwork of the festival, and I the one dumb schlub who missed it? What if I was forever frozen out of Film Dweeb Nation for not having an opinion on "the Beauvois?" What if?
Suitably panicked, I leaped out of bed, tore through a breakneck shower-and-dress routine and ran — ran — down to the Palais so I could settle into a nosebleed seat, panting and bleary-eyed, with one minute to spare.
Half an hour later, having discovered that "the Beauvois" was in fact dourly nutritious and about as enjoyable as every previous film about well-behaved French monks, I slapped myself awake and walked out. Perhaps if I didn't have a backlog of unreviewed films pressing on my mind, I'd have been more receptive; as it stands, I'll give it another shot when I'm a little more alert. "It's not you, M. Beauvois, it's me!"
Anyway, so here I am, still tired and hopped-up on free espresso, but considerably more cheerful — for after a two-day stretch of mediocrity, during which you've probably been wondering if the South African school system only taught me to count up to two-and-a-half, I've finally lost my heart to a movie again.
Wait, Guy loves the elegiac, part-French-language Juliette Binoche movie that he's been plugging for almost two years? I'll give you a moment to recover from the shock. May I continue?
"CERTIFIED COPY" (****)
"It's his 'Voyage to Italy' meets 'Before Sunset!''" critic Shane Danielsen exclaimed to me as bumped into each other after the screening of Abbas Kiarostami's latest, his eyes bright and slightly crazed with the thrill of festival discovery. I know that expression; I was wearing the same one myself, and I couldn't describe the modest majesty of this teasing, lyrical puzzle-picture any more succinctly than Shane did.
As you've already heard, it's an acquired taste, and sure enough, some limp booing accompanied the closing credits. For this viewer, however, it joins Mike Leigh's "Another Year" on a vastly elevated plane of Competition titles — films with an ardent curiosity about language and people and the ways they live, love and deceive themselves in the process. After several years in a solipsistic gallery-film wilderness, this marks Kiarostami's return to the humanism and fluid visual poetry of a "Wind Will Carry Us" — while his surprisingly transfer to European cinema adds playful, even sexy, wit to his repertoire.
"Certified Copy" takes place over a single afternoon in sleepy, sun-bleached Tuscany, as a  resident French art collector (Juliette Binoche) and a visiting British author (opera baritone and first-time actor William Shimell) meet in her gallery following the latter's book launch, and while away a few hours together before his evening train.
The film is cagey and coy about the nature of their relationship: they appear at once to be meeting for the first time and catching up over many years apart, and their alternately flirty, contemplative and bitter conversation maintains the uncertainty.
Shimell and Binoche, the latter continuing her glorious recent career transition into looser, earthier middle age, have a tentative but knowing chemistry together, like two people not sure if they share the same secret. Are they strangers or lovers, and either way, who is making up the rules in this role-playing charade? It would be a thoughtless critic who spoiled Kiarostami's delicately balanced game in his review, but this gorgeous, funny, subtly probing film promises further revelations and interpretations on a repeat viewing.
Later: Thoughts on Stephen Frears's "Tamara Drewe" and Jean-Luc Godard's "Film Socialisme" — and, if I'm lucky, Sundance hit "Blue Valentine."