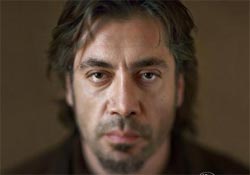 Cannes Film Festival
"How much does life weigh?" asked Alejandro González Iñárritu's sophomore feature "21 Grams" – and while the literal answer was there in the title, it's been clear from the rich buffet of human suffering in his films thus far that he believes it weighs rather a lot indeed.
Brace yourselves, then, for "Biutiful," an effortfully solemn amalgamation of personal crises and social concerns from the director's previous films that might consider going by the tagline: "Life's about to get heavier."
If that's an overly glib response to an evidently considered and compassionate personal statement on González Iñárritu's part – it's his first feature to spring from his own (co-written) screenplay, after all – I apologize. There's nothing like bleary-eyed festival fatigue to shorten one's patience with films that fall a little short of either potential or expectation.
But it takes more than undisputed sincerity to make a film that resonates, and "Biutiful" paints from too limited an emotional palette for its high-stakes story of parental duty, in the face of hovering mortality, to hit home the way it should.
The filmmaker floods the screen with poetic expressions of sadness and squalor, evocatively turning the usually picturesque cityscape of Barcelona – this is his first European-set effort – into a kind of smothering, hot-breathed open prison. But noble hardship, stoically endured by a committed cast, is all we get. The conflicted humor and lacerating irony that distinguished his first (and, by far, best) film "Amores Perros" is nowhere in evidence, and as such, the film reveals little of the human experience that we don't already know – or don't want to know.
Though González Iñárritu has strayed from the revolving-door triptych structure favored by his former creative partner, the screenwriter Guillermo Arriaga, he shares his affinity for dense, spidery plotting. Javier Bardem's protagonist Uxbal is saddled with a wealth of dramatic afflictions, including an extranged bipolar wife who happens to be sleeping with his brother, two young children in his sole custody, a deceased father whose embalmed corpse he decides to cremate for cash, and an almost admirably complex career as a corrupt cop – where his manifold responsibilities include supervising Ghanaian black-market tradesmen and shipping illegal Chinese immigrants.
With all of this going on, it scarcely seems the most pressing of the cancer-stricken Uxbal's problems when his doctor gives him two months to live: Precious Jones could take one look at his lot in life and feel substantially better about hers.
On paper, it's an almost farcically long shopping-list of woes. But where Arriaga's great strength lies in finding narrative and thematic continuity in a ragbag of story elements – even if the results can occasionally tilt towards the schematic, as in "Babel" – the director and his co-writers haven't the same keen structural ability: the film is too diffuse and confusing in its early stages for us to really get a handle on Uxbal's situation, and for this viewer, that arm's-length distance was never broken.
Not that the film isn't moving in its closing beats, aided by a typically thoughtful and quietly imposing performance from Bardem. But it's moving in precisely the way we expect it to be the second we learn of his eventual fate; nothing is risked and nothing is learned.
González Iñárritu remains a marvelously tactile and resourceful metteur-en-scene, and the contributions from returning editor Stephen Mirrione and longstanding DP Rodrigo Prieto – the latter washing the film in flesh tones and metallic blues that recall the dynamism of his debut – are of the highest order. But they're at the service of the least involving and most self-involved film of the director's career; in this case, life could stand to lose a little weight.