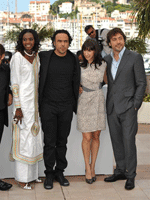 Guy hasn't pulled his full review of Alejandro González Iñárritu's "Biutiful" together yet, though he will shortly.  Directly after this morning's Cannes screening, he Tweeted that the film was "critically unfocused and emotionally muted," and that "Inarittu clearly needs to kiss and make up with Arriaga."  And judging by some of the reactions coming out of the theater, he wasn't alone.
MSN's James Rocchi, always a tough sell on films of the Iñárritu breed, mind you, called the film "[m]oving, yes, but I'm unsure about what it's moving for; Bardem superb, but morally murky melodrama's depression lacks direction," while Variety's Justin Chang wasn't that far behind: "The grinding arthouse equivalent of 'The Pursuit of Happyness,'" he called it.
Chang has one of only three full reviews I've come across so far.  The other two come from Sukhdev Sandhu at London's Telegraph (a pan), and Kirk Honeycutt at The Hollywood Reporter (a rave).
Sandhu back-hands the film thusly:
["Biutiful"] is another laborious stretch of designer depression, a remorseless headache that begins with a mysterious chap telling a ponytailed Javier Bardem: "When owls die they spit hairballs out of their beaks." Does that sound profound? Or does it reek of cod-spiritual phooey?
Honeycutt's perspective:
"Biutiful" will require several viewings for the film to yield a complete portrait of its mysterious, flawed hero. Because for all the complexity of his previous films, with fractured, multiple narratives and an array of international characters, this in many ways is Inarritu's most intricate study yet of the human condition.
Adding to the "pro" side, Jeff Wells predictably has a soft spot for the film:
Every actor is exactly right and spot-on in this film, but Javier Bardem gives a truly magnificent performance in the title role of an illegal migrant labor and street-vendor manager-facilitator. He looks right now like the most likely winner of the festival's Best Actor award just as Biutiful itself seems well-positioned right now to take the Palme D'Or.
That last bit may include a touch of wishful thinking, since there was apparently muted applause and no one was exactly swinging from the rafters, but it does seem to have hit an emptional chord with many, and that can sometimes yield a Palme D'Or winner, I guess.  David Bourgeois at Moviline chimes in with similar kisses:
Iñárritu has thankfully shed himself of the need for hand-holding when it comes to storytelling. The film is spare, and Bardem's performance — reminiscent of his turn as dying writer Reinaldo Arenas in Julian Schnabel's 2000 film Before Night Falls — is one of the finest of his career.
Also a fan was Sasha Stone, who I was sad to see arrogantly dismissed detractors of the film with a swift, "Biutiful, like Another Year, requires either extraordinary depth or life experience to fully appreciate. With neither you will be lost."  She later took it back but that doesn't make it any less annoying (sorry — a pet peeve of mine).
Finally, from an objective perch, writing for Reuters, Mike Collett-White notes: "Warm applause and plenty of tears at a press screening on Monday at the Cannes film festival, where the movie is in the main competition, suggest it is one of the early favorites for awards, with Bardem in the frame for best actor."
The point being: the jury's still somewhat out.  I have a hunch I will lean "pro" on a film like this.  I love all of Iñárritu's films, even if I am a bit skeptical of what he can do without former writing partner Guillermo Arriaga.  There is no current U.S. distributor for the film (reports of Focus Features being tied to it stem from inaccurate information — Focus only has international distribution).  I've heard "there's a reason it doesn't have a distributor" for close to a year now (which could mean nothing more than lacking commercial potential), but I guess we'll all get our look farther down the line.
For now, the Croisette has spoken….kind of.
Other Tweets on "Biutiful":
Eugene Hernandez (indieWIRE): "Ugh."
Anne Thompson (Thompson on Hollywood): "Biutiful elicits love/hate react f. American critics, played better foreign; I loved AGI's immersive direction + Bardem's perf."
Alex Billington (FirstShowing): "Biutiful was phenomenal. I loved it, not sure if others did. Javier Bardem is amazing."
Peter Sciretta (/Film): "Biutiful was very strong, great performance by Bardem, but isn't up to par with Inarritu's previous work."