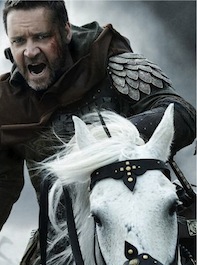 *All historical figures cited are adjusted to today's dollars.
Russell Crowe and Ridley Scott helped steal $37.1 million from the poor on behalf of the rich as "Robin Hood" enters the chart in second place this week. The humorless duo courted the older adult audience, and in that respect, this is a solid enough debut. Not quite up to the snuff of "Gladiator," but a better start than the $22.7 million summer 2005 launch of Crowe's "Cinderella Man," a film which is often cited as the one that killed big budget adult dramas being released in the heart of summer.
Where the film goes from here is up to the word of mouth which, from what I can gather, is mediocre. It'll need a healthy push to reach $100 million, but I think we're looking at another "Public Enemies" situation where the film stalls out just under the mark around $95 million. But before you bring Universal some hankies to cry in, you can expect that number to be almost tripled in overseas territories. Crowe lives to leave another interview!
So that means that "Iron Man 2" is the number one film again this week. Good job Iron Man. The comic book superhero dropped a perilous 59% and continues to do the absolute bare minimum to avoid being called a disappointment. These grosses are perfunctory and little else and it's sad that we've reached a point that a possible $350 million finish is blasé. Again, the film has already topped the $200 million mark overseas as well so this is a very profitable venture for Marvel. The third film is already in pre-production and Martin Lawrence has entered negotiations to replace Don Cheadle.
"Letters to Juliet" opened in third place with $13.8 million. That's the fourth best debut ever for the still-young Summit Entertainment, who really only have the two "Twilight" films and "Knowing" on their resume as being successful theatrical releases. You should be able to add this to that list when all is said and done as legs should be decent and it could ride the early summer wave to about $50 million total. Amanda Seyfried is still working on her A-list credentials and she learned a valuable box office lesson this year. Channing Tatum's abs > Vanessa Redgrave's jowels.
All rise for the Queen! Queen Latifah that is. Who you callin' a bitch? "Just Wright" made $8.5 million. That may be a figure to stick your nose up to, but given the smallish theater count, it actually played to bigger crowds than "Letters to Juliet." I may have to see it just to find out why a Queen would date a Common man. Get it? Too lame? Or just wright?
The rest of the top 10 is a snooze, with Spring's titles slowly trickling out of theaters. Except "How to Train Your Dragon" and "Date Night," which both held strong again. We get it America. You love those movies!
This week I saw "Exit Through the Gift Shop," which was probably my most anticipated film of the late Spring. I had heard it was an amazing free-form documentary on street art and was severely disappointed to find that it's actually just an hour and a half of Banksy taking the piss out of some schmuck he used to be friends with. Not into it.
What did you guys see? Here are this week's top grossing films courtesy of Exhibitor Relations: