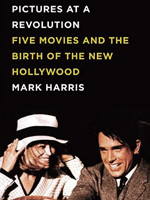 When I read Mark Harris's "Pictures at a Revolution" last summer, an amazing history of the American filmmaking revolution through the lens of the 1968 nominees for Best Picture, one of my first thoughts was, "This would make a great film."
I was thinking narrative, though, mainly because key figures like Rex Harrison and, of course, Warren Beatty stuck out as such vibrant characters.  And the circumstances are so dramatic — or, at least, Harris really found the right dramatic rhythms when he pulled all the information together.  If anyone was willing to sit down and attempt the thankless task of streamlining his dense work into a script, it could make a hell of a film.
Well, that's not happening, of course, but the inevitable is.  Oscilloscope Laboratories has announced plans to produce a documentary based on the volume with "Roman Polanski: Wanted and Desired" director Marina Zenovich tapped to head up the project.  It'll be fun and it'll hopefully be revealing.  And if you haven't read the book yet, do yourself the favor.
There aren't any quotes from Harris in the press release, so I thought I'd reach out and get his quick perspective on things.  Check out his response, as well as the full release, after the jump.
From Mark:
I'm completely delighted about this, which is of course, just in its earliest stages, and I hope to be as involved as Rachael Horovitz and Marina Zenovich would like me to be. Rachael and I have been talking about this on and off for quite a while now, and her commitment and enthusiasm and initiative have meant a lot to me. And to have Marina Zenovich involved, not to mention Oscilloscope, is really exciting–that's awfully good company to keep.

I think this'll be a great companion piece to the book, and I hope that, like the book, it will drive new audiences toward some of the movies I wrote about. But for years, I've written as a journalist that the best movie adaptations of books are those that feel free to do their own thing, and aren't worried about slavishly following every page of the source material. So I'm going to be as good as my word about that. I hope they'll shape the material as they see fit–but as I said, I'll be available to work with them and eager to help.

It's very strange to be a journalist and suddenly find that I have one foot (well, one toe, at least) on the other side of the line–it'll be a good education for me.
The full release:
New York, NY (May 16, 2010) – Oscilloscope Laboratories announced today that it will partner with Specialty Films to develop and produce a feature-length documentary based on acclaimed film writer Mark Harris' 2008 New York Times best-seller "Pictures At A Revolution: Five Movies and the Birth of the New Hollywood" and have set award-winning Roman Polanski: Wanted and Desired filmmaker Marina Zenovich to direct.
"Pictures" tells the unique story of the incredibly diverse five Best Picture Oscar nominees for 1967: Bonnie and Clyde, Guess Who's Coming to Dinner, In the Heat of the Night, The Graduate and… Dr. Doolittle (!). The book weaves together the stories of how each film was conceived, made and released. The documentary will create a conversation between all five films to capture the realities of filmmaking at the time and examine the wider story of this crucial period in Hollywood – and America at large. The story set the stage for and is relevant to today's unpredictable marketplace; as Harris writes "the only event more disruptive to the industry's ecosystem than an unexpected flop is an unexpected smash, caught off guard by the sudden arrival of more revenue than they thought their movies could ever bring in, the major studios resorted to three old habits: imitation, frenzied speculation, and panic."
Specialty's Rachael Horovitz (Grey Gardens, Moneyball), who also produced a documentary of Steven Bach's Heaven's Gate chronicle "Final Cut," said, "Mark's book so perfectly captures the struggles and unknowables of movie-making, and with such great detail and wit, that we thought it was worth bringing the story to the screen itself."
Marina Zenovich said, "I'm looking forward to bringing to life the story of Hollywood's revolutionary year. If you want to know when the golden era of '70's American cinema really starts, then this is it."
Adam Yauch, head of Oscilloscope said, "We are really looking forward to working with these guys. Rachael is a longtime friend. She and I have talked about doing something together for decades, and I can't imagine a better project, or more perfect director to helm it than Marina. I'm a huge fan of the Polanski doc she made. So without further ado, let's light this candle."
Horovitz will serve as producer with Zenovich's collaborator P. G. Morgan. Adam Yauch and David Fenkel of O-scope will serve as executive producers of the documentary. Oscilloscope Laboratories will theatrically release the film in North America and qualify it for the Academy Awards.