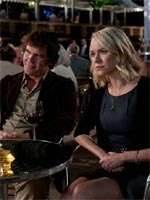 Apologies for yesterday's scarcity of Cannes updates: a bumper day of back-to-back screenings cut unavoidably into my writing time, particularly as "Another Year" — widely agreed, among those I've spoken to, to be the standout film of the Competition so far — merited a more substantial take than most. One day and several films later, Mike Leigh's latest and its rich, teasing ambiguties are still foremost in my thoughts, and some inside Twitterers have suggested that the jury is similarly impressed.
My day could have been even busier, but I blew off an early evening screening of Canadian wunderkind Xavier Dolan's "Heartbeats" to finish my Leigh review — only to pay the price this afternoon as I was shut out of the repeat screening. You can't have (much less do) it all. I fully intended to make up for it with the late show of Chadian Competition title "A Screaming Man" … but if you can refuse when USA Today's delightful Anthony Breznican offers to treat you to a steak-and-bouillabaisse dinner on the Croisette, you're a nobler cinephile than I.
Moving on to yesterday's decidedly mixed bag of American movies…
"YOU WILL MEET A TALL DARK STRANGER" (**)

Being a Woody Allen die-hard these days is roughly equivalent to being the battered half in an abusive marriage: his films behave consistently appallingly, but treat you right just often enough (hello, "Vicky Cristina Barcelona") to keep you coming back for the next punch in the face.
As these go, "You Will Meet a Tall Dark Stranger" is a mild bruise rather than the double black-eye of a "Hollywood Ending," but it's a dispiritingly listless and superficial rehash of past glories, emulating the diffuse, novelistic structure of "Hannah and Her Sisters" and the sour relationship politics of "Husbands and Wives," minus the requisite humanity and conviction.
What we have instead is a London-set collection of anecdotal, only fitfully amusing vignettes: a wealthy pensioner (Anthony Hopkins) takes up with a prostitute a fraction his age, while his abandoned wife (Gemma Jones) seeks solace in New Age therapies; their unhappily childless daughter (Naomi Watts) dallies with her dishy boss (Antonio Banderas) while her novelist husband (Josh Brolin) hatches a scheme straight out of "Morvern Callar" to reignite his writing career … and so on and so forth.
These strands are bound by simple character connections rather than any richer thematic throughlines, and only Lucy Punch – as the busty, bird-brained chav who wears Hopkins's infatuation like an unwanted accessory – hits her comic marks, though the character is little more than a Transatlantic Xerox of Mira Sorvino's Oscar-winning part in "Mighty Aphrodite."
Allen the filmmaker, meanwhile, is as glazed and distracted as Allen the writer, making no demands whatsoever of the great Vilmos Zsigmond behind the camera, while the prosaic editing makes it one of his longer-seeming 90-minute jaunts. It's painless enough, but in a film that claims to have at least half a mind on the perils of aging and infidelity, a little pain mightn't have gone amiss.
"KABOOM" (***)

Considerably more fun was Gregg Araki's "Kaboom," a deliriously silly stoner's caper movie that melds the abrasive kandy-kolored hedonism of the director's 1990s output with the dopey whimsicality of his last feature, "Smiley Face." Aiming squarely at midnight-movie cult status, it seals the deal by bolstering its baked college humor with copious sex scenes between its aesthetically gifted cast members — in a liberal spectrum of gender combinations. Chances are your mom won't like it.
There's little point in discussing the plot, other than to say that hot lesbian sorceresses, animal-masked doomsday cult members and predatory hot-tub designers all play supplementary roles in the procession of surreal events that befalls our protagonist, sexually undecided art-school freshman Smith (Thomas Dekker, looking and sounding distractingly like Jared Leto circa 1995).
It goes without saying that the results are uneven, with the mile-a-minute gags eliciting almost as many groans as yocks, but the whole is almost endearingly spirited and unruly, while the young cast is fully committed to the cause – rising star Juno Temple, as a blasé British Lolita improbably named London, is a particular delight.
Even on its own absurd terms, the narrative sags in spots – Araki could have got away with making proceedings even dirrrtier and more chaotic – but it's the purest blast of filmmaking energy the festival has served up so far.
"INSIDE JOB" (***)

I was certainly in a receptive mood to "Kaboom" after emerging from US documentarian Charles Ferguson's sophomore feature "Inside Job" – a thorough, incisive if faintly dry breakdown of the current economic crisis that plays a little like last year's "Capitalism: A Love Story" on a heavy dose of Ritalin.
Of interest mainly to US audiences – besides a prologue that evaluates the global consequences of Iceland's financial meltdown, Ferguson keeps his focus Stateside – it will end up reaping similar plaudits to Ferguson's Oscar-nominated debut "No End in Sight," if people don't find that the subject has been sufficiently combed-through in both news and entertainment media over the last two years.
Narrated by the comforting tones of lefty-for-hire Matt Damon, the film doesn't offer much in the way of revelation, but benefits enormously from Ferguson's wickedly predatory skills as an interviewer, cornering vulnerable subjects into relishable foot-in-mouth moments. Meanwhile, the film makes a witty virtue of the number of dubious economic players who declined to participate – ranging from Alan Greenspan to Timothy Geithner – solemnly listing their names throughout as virtual badges of honor.
Later today: Thoughts on the French double-feature of "The Princess of Montpensier" and "Black Heaven" — the impatient can already find out what I think on Twitter — and, if I'm successfully admitted, Takeshi Kitano's latest.