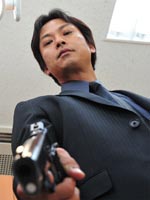 Nothing quite clicked into gear today, I'm afraid – the one screening I really wanted to make, Xavier Dolan's warmly received sophomore feature "Heartbeats," filled up before I could get in the door, while the films I did see made for a pretty uninspiring day's viewing.
I'm usually quite a stickler for taking notes during festival screenings – overlapping and psychotically askew, given my minimal mastery of night-writing, but notes nonetheless – but today the notepad stayed largely unblemished. That usually means one of two things: I'm too lost in the film to keep jotting, or it simply provokes no thoughts from me whatsoever. Guess which one applies today.
I'm afraid it was with a mostly clear conscience that I sacrificed an early evening screening of Jia Zhang Ke's "I Wish I Knew" in order to attend the swish London Film Festival shindig at the Palais Stephanie Hotel. (Yes, any big festival teems with parties for other festivals – just drink your champagne and go with it.) I confess I didn't get on that well with Jia's previous feature "24 City," and guessed the new film would be in a similar vein – friends' reports suggest that was a good guess.
Among the guests at the LFF party, an obviously Brit-heavy poolside affair taking place on the hotel rooftop, was the festival's current man of the hour, Mike Leigh, as well as actress Lesley Manville. I took advantage of my proximity to the latter to tell her how much I admired her much-discussed performance in "Another Year," as did others; she seemed faintly bemused by the attention.
I did idly wonder whether the absence of her co-stars was coincidental, or whether Manville really has been appointed the face of the film. (EDIT: The film's PR folks tell me that only a scheduling conflict kept her co-stars away.)
But enough of the shameless name-dropping, and on to today's capsule reviews. (Extremely capsulized on this occasion, I'm afraid: not only because there's not much to say about any of them, but because it's 2:30am, and while Money may Never Sleep, I still do.)
"OUTRAGE" (**)
Takeshi Kitano's more excitable fans may thrill to the director-star's blood-saturated return to the yakuza genre, but more casual admirers will likely be left nonplussed by this thin, obstinately single-minded shoot 'em up. Make that shoot/stab/sever/strangle/slice/garrotte 'em up, given that Takeshi's chief interest in this scarcely plotted film is finding ever more laborious, if frequently innovative, ways to slaughter any gangster standing between the middle-aged heavy (played by Takeshi himself) and … well, let's just say that the journey appears to be the destination. Not without some nasty laughs, but preening and mechanical with it.
"THE PRINCESS OF MONTPENSIER" (**)
Scattered boos greeted Bertrand Tavernier's visually and emotionally embalmed 16th century soap opera as the credits rolled on this morning's press screening, but I'm pleased to say I didn't join them. I was still shaking myself from the stupor induced by its Harlequin-grade love triangle (further sides added in due course), centred on Melanie Thierry's titular royal, easily the most attractive and inanimate object of mass desire since the iPad. Principally vying for her affections are Gregoire Leprince-Ringuet, handsomely vacant as her elder-selected husband, and Gaspard Ulliel, vacantly handsome as her One True Love; it's not a decision she can make lightly – and at 140 very long minutes, she doesn't make it quickly either.
The press notes claim Tavernier and team were aiming for something more youthful than the standard heritage costumer; sadly, unless today's high schools really are rammed with solemn-faced kids spouting catchy pick-up lines like "Isn't the world's equilibrium kept in place by small stars which forget their place in the celestial hierarchy" (okay, I wrote that one down), I fear they may just have missed their mark.
"BLACK HEAVEN" (*1/2)
Proving the generally reliable maxim that once you have Guy Lodge as a declared fan, your résumé will go swiftly and inexplicably pear-shaped, poor Leprince-Ringuet was the hapless star of back-to-back duds today, the second being this dreary, dated cyber-thriller from director Gilles Marchand and writer Dominik Moll – also talents with better days and films (notably the drum-tight, Moll-directed suspenser "Harry, He's Here to Help") behind them.
The new film covers strikingly similar narrative ground to Hideo Nakata's recent Cannes howler "Chatroom" – not a comparison a filmmaker should welcome at any point, much less just two days later, though Marchand's film at least benefits from a more able young cast and slicker visual gimmicks. For the spoiler-phobic, I'll simply say that this film goes to similarly contrived lengths to put forth the audacious and not-at-all-dated proposition that The Internet Is Evil. Lock up your teenagers, though preferably not with their laptops.
Tomorrow: Better times, we can only hope, with the premiere of Alejandro González Iñárritu's "Biutiful," among others. No pressure, then.