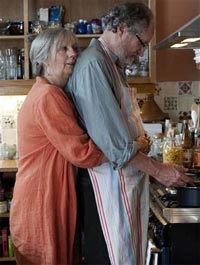 Cannes Film Festival
"On a scale of one to ten, how happy are you?" asks one character of another in Mike Leigh's new film "Another Year." "One," is the doleful reply, as if Leigh himself is swearing off the sunnier skies of his previous feature, "Happy-Go-Lucky."
He needn't have made the point so emphatically. For a director who has worked, across his career, with a thriftily light bag of oft-used themes, milieus and even actors, Mike Leigh has remarkably never settled for making the same film twice.
His detractors paint much of his oeuvre with the broad brush of kitchen-sink miserablism, ignoring the considerable tonal and structural differences between a "Naked" and, say, an "All or Nothing" – but then overestimating the radicalism of a "departure" like the aforementioned "Happy-Go-Lucky," a tarter and more searching film than the feel-good breeze many pretended it was.
Detractors and admirers alike will probably label Leigh's latest a return to normal service for the prickly Brit: a leisurely character study, sober-sided but flecked with streaks of broad humor, dwelling on the personal insecurities of London's tea-swilling middle classes. A cast peppered with familiar faces from past Leigh works – Jim Broadbent, Lesley Manville, Ruth Sheen, Imelda Staunton and so on – will further the impression of business as usual, but "Another Year" turns out to be one of the filmmaker's most structurally ambitious and emotionally expansive works.
Comprised of four chapters and a strikingly dissonant prologue, the film charts a single year in the life of Tom and Gerri, a genteel, happily married pair of baby-boomers played by Broadbent and Sheen. (No, the humor of this name pairing does not pass without comment.) Leigh visits them for a brief period in each of the four seasons – the occasion varying in significance from a summer barbecue to a winter funeral – and tacitly scrutinizes the changes, both dramatic and incremental, occurring from one to the next.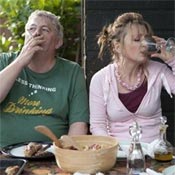 The film, however, is only ostensibly about this likeable but milquetoast couple; their relationship unwavering throughout, Tom and Gerri rather serve as a sounding-board for the more conflicted personalities of their family and friends, from their devoted 30 year-old son Joe (Oliver Maltman), whose singledom concerns him more than he lets on, to Ken (Peter Wight), a rudderless, borderline-alcoholic college pal of Tom's.
Appearing in each chapter, however, and gradually emerging as the tragic heroine of the piece, is Lesley Manville's Mary, a twice-divorced colleague of Gerri's whose cheery, gypsy-skirted kookiness has begun to fray badly as she enters deep middle-age. Desperate for companionship and harbouring a long-held but wholly inappropriate crush on another of the principals, she masks a lifetime of personal and professional disappointments behind boozy, good-time-gal schtick.
As played in inspired fashion by Manville, she recalls nothing so much as Poppy, the brazenly optimistic protagonist of Leigh's last feature, had her spirit been broken at some point in her thirties. (Leigh extends the parallel with a running commentary on Mary's disastrous acquisition of a car, echoing Poppy's equally ill-fated driving lessons.)
As Mary's increasingly severe depression causes a polite chill in her relationship with Tom and Gerri, Manville gradually strips the character of her more appealing affectations, leaving little more than a shivering shell of woman. It's a devastating portrayal, and a formidable addition to Leigh's gallery of self-deceiving female characters.
This being a Leigh film, it barely needs to be stated that the rest of the ensemble is as attentively cast and beautifully knit-together as could be hoped for: handed the most minor-key characters of the piece, Broadbent and Sheen may have the least enviable task, but it's their warm, unforced chemistry that provides the necessary foundation for the script's more unsettling dramatic leaps.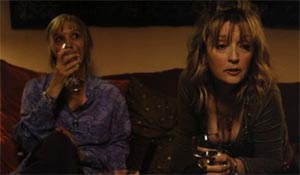 Meanwhile, Leigh's script – cast-workshopped and assembled in his trademark unorthodox fashion – deftly maintains a probing dramatic throughline while seasonally shuffling between solemn personal drama, brittle social satire and near-farcical high comedy.
If "Happy-Go-Lucky" was a discursive thesis on the merits and challenges of making one's own happiness, "Another Year" continues that investigation, while taking human loneliness as its essay subject. If there's a problem here, it's that the film might mark the divide between contented coupledom and the yearning single life a little too patly.
Or perhaps it doesn't: the film's mostly self-contained opening sequence, featuring a startling cameo from Imelda Staunton as a married insomniac assigned to Gerri for counselling, stands starkly at odds with the rest of the film's advocation of togetherness: here is the film's only character who wants to be alone, and isn't permitted to be. "What is the one thing that would improve your life?" Gerri asks her brightly. "A different life," comes the bitterly defiant response.
We keep expecting to follow up this story as the titular year unfolds, but we never do, just as the fates of Tom and Gerri's rotating stream of visitors are left variously in limbo. Leigh's deceptively harsh but supremely moving film may be a paean of sorts to togetherness, but it's also an elegy to those we've let slide out of view.