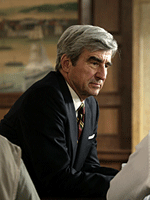 Even though there are probably seven or eight other iterations of the show on NBC, the network's decision to cancel the flagship "Law & Order" program this week is, nevertheless, the end of an era.  I felt it shouldn't pass without some commentary.
Most interesting for me was this AP story, which serves as a love letter to the show's depictions of New York over the past two decades.  Writes Melissa Raysworth:
Some shows depict a New York that simply doesn't exist (try and find two struggling Manhattan twentysomethings with a "Friends"-sized apartment). Others offer a window into a single corner of New York life: Fashion-obsessed women really do sip cocktails in trendy bars, just like on "Sex and the City."

But most TV fare offers up a mere sliver of New York City. For two decades, until it was canceled Friday, NBC's "Law & Order" did something different. It showed the world not just one New York but hundreds.
Check out the rest here.  And just for fun, one of the coolest opening themes in TV history (though nobody has anything on "Airwolf"):