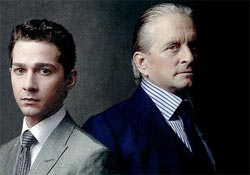 Cannes Film Festival
"Is greed good?" Gordon Gekko asks near the beginning of Oliver Stone's glib, gleaming and endearingly trashy sequel to his 1987 corporate morality tale. Delivering the line, a looser-haired but stiffer-skinned Michael Douglas can barely resist licking his lips and winking; this is his earlier, Oscar-winning performance turned inside-out, emerging as lascivious pantomime, and he wants us to be certain he's in on the joke.
Provided you are, too, "Wall Street: Money Never Sleeps" is one of the more pleasantly surprising studio pictures of the year thus far, and a significant improvement on its po-faced (and, 23 years on, now fearsomely dated) predecessor. If the sequel could never have been deemed "necessary," it's certainly as handily timed as can be. As the original served as dumb but not ineffective allegory for the coke-fuelled iniquities of 1980s capitalism, the new film not only does the same for credit-crunch sobriety in the post-2000s, but allows Stone his "Toldja!" moment to boot.
Not that the film is nearly as concerned with socio-economic commentary as it is with smirking self-parody: it arguably blew its best gag in the trailer, as Gekko's bread-loaf-sized cellphone is returned to him on his exit from prison, but there's plenty more idle fun where that came from, culminating in a slithery cameo from the original film's star, a bronzed glamazon on either arm, that may as well have been credited: "and starring Charlie Sheen as himself."
Rather more effort has been spent on these gleeful details than on the script, which efficiently recycles the plot of the first film, subbing Shia LaBeouf's barely pubescent (and only occasionally Brooklyn-accented) trader for Sheen, Josh Brolin's maroon-suited, Mephistophelean business shark for Douglas, and mostly letting Douglas hover over the proceedings as a cuddly dispenser of malevolent platitudes. "A fisherman always sees another fisherman from afar," he intones sagely at one point, which makes almost much sense as a later warning to LaBeouf's naïf: "You're a monkey dancing on a razorblade."
Brolin, as is his recent wont, doesn't break much of a sweat to be the classiest thing here, though his animal metaphors suggest he isn't as well-liked by writers Allan Loeb and Stephen Schiff: "Are you a bee?" he barks at LaBeouf in the script's arguable low point. "Do you like to sting people?" Even Shia won't dignify that one with an answer.
If you haven't got the idea by now, then, much of "Wall Street: Money Never Sleeps" is unreservedly terrible, from Stone's reliance on mostly boneheaded visual metaphors (Bubbles! Dominoes! Diamonds!) to the almost resourcefully batty editing of David Brenner and Julie Monroe, neither of whom, clearly, has ever met a split-screen or cross-fade they didn't like. Hey, let's superimpose the face of Shia's hot colleague over that of Carey Mulligan while they talk on the phone! Hey, why not?
Speaking of Mulligan, as the no-fun lefty girlfriend of LaBeouf (and heir to the Gekko fortune), she is nobly saddled with the film's most nonsensical character: both highly principled and wholly suggestible, a type-A career woman who doesn't practice birth control, and a supposedly gifted journalist who nonetheless writes articles with titles like "The Power of the Sun for My Son and Our Future." (She's not even the prime victim of the film's vast disinterest in the opposite sex: that'd be poor Susan Sarandon, who, as LaBeouf's recession-ruined mother, is granted three scenes to fluff her hair and chain-smoke the remainder of the pack she didn't finish in "The Lovely Bones.")
That Mulligan and LaBeouf's earnest for-love-or-money romance is allowed to become the center track of the narrative is unfortunate, suggesting the writers are taking the whole enterprise rather more seriously than everyone else. Happily, the high camp served up by Stone and his senior cast members is loud and lurid enough to swallow these lulls: more, they have concluded, is definitely more. One senses Gordon Gekko would approve.