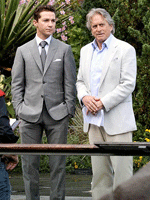 While Guy is doing a bang-up job handling Cannes for us this year, I thought I'd poke around and see what some of the other usual suspects of the Oscar season are covering things on the ground.  When I clicked over to Awards Daily, I wasn't the least bit disappointed.
Sasha Stone, attending the fest for the first time in the 11 years she's been on the film awards beat, has charted her experience in a series of diary entries that uniquely — and smartly — aims to assess the psychology of a place so wonderfully bizarre as a cosmopolitan film festival.  Her coverage is armed with cheeky barbs such as this:
There are obscure screenings and high profile screenings and many variations therein. But it does give one a warped sense of things when you see crowds begging for tickets to Wall Street 2. If it were any ordinary Friday in the states you'd be thinking, "do I really want to go see another sequel?" Maybe you would and maybe you wouldn't, but it is pressing here. It is a must-do.
Pete Hammond, meanwhile, kicked the tires on his Notes on a Season column over at The Envelope to piece together one of his typical "Notes on the Town" features from the fest.
Guy mentioned the noteworthy performance from Mimi Le Meaux in Mathieu Amalric's "Tournee (On Tour)" Wednesday, but Hammond goes so far as to cast one of his trusty "look out" labels on Le Meaux's work:
Should "Tournee" find American distribution, look out for the name Mimi Le Meaux. She not only can "take it off, take it all off" with the best of 'em, she's also a whale of an actress and delivers an award-worthy performance.
Oh, and "Robin Hood" came and went, pretty much as expected.  But it has a couple defenders out there, David Poland among them (he's not at the fest, FYI).  Others covering Cannes include Anne Thompson, Little Gold Men and the always thorough Jeff Wells, who really shines at Cannes.
Finally, this awesome shot of a "From Here to Eternity" screening on the beach, stolen outright from Sasha: