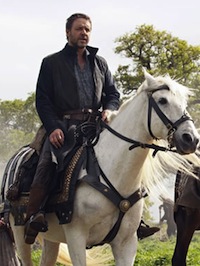 *All historical figures cited are adjusted to today's dollars.
Fresh off a tepid debut at Cannes, Ridley Scott and Russell Crowe have unleashed their fifth collaboration upon the world. Forget Scorsese and DiCaprio, these guys are taking actor-director bromance to another level. Together, they've given us Oscar winning hits ("Gladiator"), non-Oscar winning hits ("American Gangster") and non-Oscar winning non-hits ("A Good Year" and "Body of Lies"). Which category will "Robin Hood" fall under?
The one comparison everybody can't stop making is to "Gladiator" so let's start there. The sword and sandals epic also launched in May, of 2000, and slashed up a $51.4 million debut. That was at the very beginning of May with no other summer movies out in competition it should be noted. Both director and star have become much more prolific and popular since then so maybe we should assume that "Robin Hood" could do a little better.
Not so fast! Medieval/historical epics have had a torrid last few years at the box office. Scott's own "Kingdom of Heaven" was supposed to kick off the 2006 summer season with a bang but only managed a $24.4 million debut and $58.8 million finish. Oliver Stone gave it the old college try with "Alexander" and found $17.5 million to start en route to a $43.9 million total. Granted, people hated that thing.
Most damning though, is 2004's "King Arthur," which had Bruckheimer summer pedigree but could still only debut with $19.5 million and finish with $66.4 million. Like "Robin Hood," that project had a general whiff of "really, another King Arthur movie?"
All that said, I think we're looking at a $34 million opening and second place finish for the band of merry men.
Summit took a look at the world and thought that there weren't enough romantic comedies starring nosey teenagers and Vanessa Redgrave so now we have "Letters to Juliet." This type of movie is perfect counter-programming and the studio wisely started sneak previews last weekend to raise awareness. It's not going to be huge out of the gate, but I can see this one sticking around for a while. Let's give it $16 million for the weekend and mark my words- Vanessa Redgrave is the new Meg Ryan.
Romantic comedy enthusiasts get a double dip this weekend as two hip hop stars-turned-actors fall in lurve in "Just Wright." This movie lost me the second I found out Queen Latifah's character's last name is Wright. Is it just a weird coincidence that so many romantic films aimed at the African-American audience do this? "Poetic Justice." "Jason's Lyric." "Deliver Us From Eva!" Anyway, Latifah has more pull than you might think and even with a low screen count, this should be able to hit $9 million for the weekend and make a tidy profit.
But what of "Iron Man 2?" Summer's supposed early titan showed some chinks in the armor during its debut and has had a less than jaw-dropping weekday performance. I think we're looking at a 60% drop, which would put it around $50 million for the weekend. Anything less than 55% would be a victory for Paramount, who are going to make an insane amount of money from this property regardless, but still might be scratching their heads wondering why it wasn't more. Terrence Howard has an idea of why. (p.s. this theater owner is a genius)
I urge every single one of you in New York to go see "Daddy Longlegs" at the IFC Center. Virtually assured a place in my top 10 list at the end of the year, it will need all the help it can get at the box office.
What are you guys seeing?