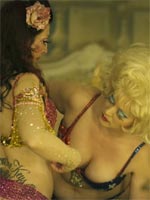 I spent a good long time trying to think of some glib, pithy way to link the pair of titles served up on the first day of the Cannes Film Festival, but must admit defeat — they have no common points whatsoever, apart from the fact that they both, like, feature French people. In lieu of such an intro, then: two films screened today. This is what they were.
"ROBIN HOOD" (**1/2)
It's a fairly rote critical bitchslap to say that the closing credits are the best part of a movie, but that's quite literally the case in Ridley Scott's "Robin Hood." I say this not in snark, but in praise: it's a genuinely remarkable credit sequence, animated in rich-hued, painterly style, presumably by the same artists behind the Scott Free company logo (a personal favorite). It's rather a shame it couldn't be stuck at the front of the film instead. Perhaps Scott thought its color palette would show up the actual film's symphony of camouflage tones.
Okay, that's 100 words spent on the credits. If you think I'm stalling before delivering a damning verdict on the film, you'd be wrong, but I can't find much of substance to say about it either. For the second summer blockbuster in a row, I must part ways with my esteemed editor in finding "Robin Hood" a sturdy if resolutely unfashionable entertainment, one crafted and performed by A-grade talent with more commitment than passion – but enough of the former to keep things on the rails.
Whether Scott et al have answered the "do we need a new Robin Hood" question is incidental – need is not usually a word applicable to the myriad sequels and do-overs of the summer movie season – but a new version of the hero is what they've delivered: Russell Crowe is certainly wearier and dourer than previous incarnations, but pleasingly human with it. Meanwhile, his screen personality meshes interestingly enough with that of Cate Blanchett's proud, prickly Lady (no maidens here) Marian to make me want to see both actors again in something they really care about.
Brian Helgeland's script builds a surprisingly neat and coherent "making of the legend" case – perhaps a little too methodically in a talky midsection, which really wants for a rousing set-piece or two. When those come, Scott commands the show with his usual technical brawn and fierce lack of wit; that such an impersonal if purposefully entertaining film is still his most satisying since "Black Hawk Down" suggests he should start choosing his projects with more heart – and that he and Russell Crowe should perhaps start seeing other people.
"ON TOUR" (***)
If "Robin Hood" officially kicked off the festival in a slightly stolid fashion, the Competition got off to a rather more playful start with Mathieu Amalric's "On Tour." Gifted with one of the catchier loglines of the Competition films – "Hey, it's the French burlesque-tour movie!" – it turns out to be a gentler character comedy than might have been anticipated, built less around onstage antics than droll backstage exchanges and fleeting encounters.
Working the same seedy, rumpled cool that he brought to Arnaud Desplechin's "Kings and Queen" and "A Christmas Tale," Amalric himself anchors the film as Joachim, a formerly successful entertainment producer now reduced to managing a group of lippy American burlesque dancers on a tour of tired French ports – with a gig in Paris their elusive holy grail. The women (an engaging collection of non-pros effectively playing themselves) begin the film as a laughing, indistinct gaggle, but personalities gradually emerge – most notably Mimi Le Meaux, an imposingly tattooed striptease artiste who butts heads more vocally with Joachim than the others.
Story is a low priority here: Amalric strews his lackadaisical narrative with intriguingly tart suggestions of deeper-rooted problems – Joachim has a brittle relationship with his two pre-teen sons, while one dancer is ironically plagued by body insecurities offstage – but is more concerned with incidental and atmospheric details. Indeed, much of the film's richest comedy is to be found away from the ragtag "family" at the film's center, and in Joachim's encounters with complete strangers.
This lack of urgency ultimately overwhelms the film in its final third, where it becomes clear that Amalric has little on its mind beyond cottonwool sentiments of the "everybody needs somebody to lean on" variety, and the hardly taxing 111-minute running time begins to feel a slight indulgence. But there's plenty to appreciate here: Amalric has a witty way with editing and composition, aided considerably by Christophe Beaucarne's jewel-toned lensing, and remains a delightfully sly and secretive presence before the camera. He might yet make a great film, if he can just find something to make it about.
Tomorrow: some combination of Wang Xiaoshuai's "Chongking Blues," Manoel De Oliveira's "The Strange Case of Angelica," Im Sangsoo's "The Housemaid," or whatever the Director's Fortnight has to offer.