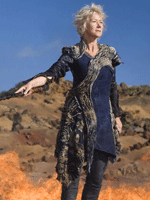 Hey, remember "The Tempest?" Julie Taymor's adaptation of the William Shakespeare play — with Helen Mirren stepping into the gender-switching lead of Prospera – seems to have been on deck forever.  But while I believe the film truly wasn't completed until recently, being trapped in the sinking ship that was Miramax surely couldn't have helped matters.
The film looks to be a below-the-line awards monster waiting to happen, with such esteemed veterans as Stuart Dryburgh, Sandy Powell and the incredibly under-appreciated Mark Friedberg on board.  Now it will serve as a fixture in what could be a banner year for Mirren, as the actress has no less than four (and maybe more) films scheduled to hit screens in 2010.
A recent USA Today story is doing its part to stir early populist interest in advance of the December release date.  Anthony Breznican sat down with Taymor to get the goods (and the new production still featured here).
Regarding the gender change, Taymor is of course ready with the proper sound byte:
I wanted to do it because there are actresses like Helen Mirren who never get to play these fantastic parts because they were not written for women…We changed the role. It's one of the few plays where it not only doesn't hurt the play, but enhances the play.
Still, while being a part of "the year of Mirren" will be a nice touch, it's rather unfortunate, given the above, that it couldn't make the circuit last year in time for the "year of the woman" rally cry.
Check out the rest of the story at USA Today.