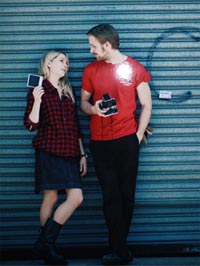 Okay, so you've combed through the 19 films in the Competition lineup for Cannes 2010, and you still haven't found much to get excited about? Fret not. You wouldn't know it to read most media coverage of the festival, but the Competition is only one course at the Cannes buffet – and not necessarily the most filling.
Surrounding it are a host of alternative sidebars, both competitive and simply exhibitory, ranging from glossy out-of-competition Hollywood premieres to independent strands yielding more familiar names than the casual festival-watcher might expect. In today's preview, I'll pick out some potential highlights from the non-Competition hinterlands.
The ones you'll hear the most about, of course, fall into the Out of Competition category, a refuge both for arthouse attractions that fell between the cracks in the selection process (chief among them, Olivier Assayas's five-hour Carlos the Jackal study "Carlos") and big-budget studio pictures seeking the prestige of a Cannes stamp without the risk of actually competing.
Here you'll find the star-laden pair of Oliver Stone's "Wall Street: Money Never Sleeps" and Woody Allen's "You Will Meet a Tall Dark Stranger" – both projects that have me worried for different reasons, but neither of which you really need me to remind you about.
Falling just below them on the media-awareness scale is Stephen Frears's "Tamara Drewe," an adaptation of Posy Simmonds's comic-strip-turned-graphic-novel that was itself a modern-day spin on Thomas Hardy's "Far From the Madding Crowd." It'll be looking to make a leading lady of one-time Bond girl Gemma Arterton, and to put Frears back in most critics' good graces after the fizzle of "Chéri," but it's another film for which a Cannes premiere is merely a fancy formality.
If these titles serve as shiny surface ornamentation to draw celebrity media magpies to the red carpet, more cinematic substance lies in the Un Certain Regard and Directors' Fortnight sections. Often thought of as a kind of kindergarten for rising talent not yet ripe for a Competition berth, this isn't strictly the case: Un Certain Regard, in particular, can often house established filmmakers whose films, for whatever reason, aren't deemed suitable for the big show.
Case in point: this year, the loftiest auteur name in any section of the fest is to be found in UCR, as Jean-Luc Godard's "Socialism," rumored to be the 79 year-old New Wave pioneer's last film, makes its debut there. A multi-narrative piece reportedly too esoteric for the Competition, the wilfully unilluminating synopsis suggests a similarly cerebral partner piece to Godard's last feature "Notre Musique."
Godard isn't the only (or the oldest) veteran of Competitions past in UCR: alongside him is 101 year-old Portuguese director Manoel De Oliveira. Fresh off the warm critical reception for his delightful 2009 miniature "Eccentricities of a Blonde Haired Girl," De Oliveira returns with "The Strange Case of Angelica," which appears to be in an equally melancholy, parable-like vein.
Besides Godard and De Oliveira, several other directors who have previously been granted Competition spots are slumming it in Un Certain Regard this year: critical darling Jia Zhang Ke arrives with "I Wish I Knew," a wide-reaching documentary on Shanghai, while Argentina's Pablo Trapero brings "Carancho," his follow-up to the well-received women's prison drama "Lion's Den." Better yet, American indie loris Lodge Kerrigan (whose virtues as a filmmaker extend beyond his entirely fantastic first name) returns after a six-year absence with "Rebecca H. (Return to the Dogs)."
Speaking of U.S. indies, Derek Cianfrance's Sundance hit "Blue Valentine" is looking to follow a similar festival-to-festival trajectory to "Precious" (which also played UCR) last year: the bleak marital drama already has a distributor (The Weinstein Company, no less) and critical buzz for stars Michelle Williams and Ryan Gosling, so a Cannes appearance serves merely as a nice feather in its cap – but it's still one of the titles I'm most eager to catch.
"Blue Valentine" may be the starriest Un Certain Regard inclusion, but the one with the most commercial buzz is "Chatroom," the latest genre exercise from Japanese horror merchant Hideo Nakata, creator of the original "Ring" franchise. Nakata crossed over to Hollywood for the ill-received "Ring" sequel in 2005; this time, he's trying the UK, forming an unlikely collaboration with Irish "Hunger" writer Enda Walsh. The cast includes rising star Aaron Johnson and Hannah Murray (so terrific in TV's "Skins"); curiosity around this one is understandably high.
Other promising names in a notably deep UCR pool include young Canadian multi-hyphenate Xavier Dolan, whose sophomore effort "Les Amours Imaginaires" will hopefully build on the promise of last year's precocious but arresting debut "I Killed My Mother" and Romania's Cristi Puiu, whose "Aurora" one might have expected to show up in Competition in light of the critical reception for his last film, 2005's "The Death of Mr. Lazarescu."
Lower on the radar, but of great interest to me personally, is Oliver Schmitz's "Life Above All," about an abandoned 12 year-old girl fending for herself on the outskirts of Johannesburg. Schmitz's 1988 debut "Mapantsula" is one of the great South African films, and this is his first feature in a decade.
With that kind of range and high name-recognition factor, it's not hard to see why many festival-goers are claiming more excitement over Un Certain Regard than the Competition; indeed, if the latter lineup turns out to be as low-wattage as many fear it looks on paper, UCR stands to gain far more column inches than it is usually afforded.
That leaves the Director's Fortnight to showcase more off-the-beaten-track talent; with a lineup heavy on newcomers, there's little way of predicting who could be this year's breakout story from the section, à la Xavier Dolan last year. One title, however, has already risen to the top in buzz terms: "Shit Year," the goadingly titled second feature from Cam Archer ("Wild Tigers I Have Known") stars Ellen Barkin as a washed-up actress undergoing a mental breakdown, and is rumored to be a strong showcase for the long-absent star.
Meanwhile, classing up the Director's Fortnight lineup considerably, in a special screening sidebar, is "Boxing Gym," the latest from veteran documentary master Frederick Wiseman. Wiseman is coming in supreme form following last year's staggering "La Danse: The Paris Opera Ballet"; expectations should be duly high for the new film, which surveys the wide spectrum of clients at the Texas gym of the title.
Finally, if you're still mistrustful of these titles, there's always the Cannes Classics sidebar, which promises mouthwatering restorations of former festival glories like Visconti's "The Leopard" and Bunuel's "Tristana," among other delights. If you're going to Cannes and finding nothing to get excited about, either you're in the wrong profession or you're not looking hard enough.