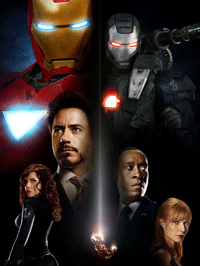 *All historical figures cited are adjusted to today's dollars.
"Iron Man 2" landed with a softer than expected $133.6 million to easily win the weekend. Now, is it even possible for $133.6 million to ever be disappointing? That's the ninth biggest opening weekend of all time for crying out loud. Plus the film has already racked up more than $300 million worldwide so there is no danger of it not being extremely profitable for Paramount. Still, I think this just about the bare minimum it could have possibly made without raising some eyebrows. The original film opened on the same week two years ago to $109.2 million, which at the time made it the third biggest debut ever for a non-sequel.
Being as popular as it was, a bigger debut for the sequel was an absolute requirement. Films in the "Pirates of the Caribbean" and "Shrek" franchises took enormous leaps from the debuts of their first film to second, but to be fair, those original films both opened with much more modest numbers than the first "Iron Man." With "Spider-Man 3" proving that you can open in the beginning of May and earn more than $150 million without breaking a sweat, there's really no reason why "Iron Man 2" shouldn't have done the same.
There's certainly no competition. They brought back all the ingredients that made the first film likable (except no one will mind if we replace the black guy, right?). Some might be quick to say the lack of 3D hurt it, but that's nonsense. Whatever the case, I'd now say that surpassing the $352.6 million of the original is not a foregone conclusion and ending the summer as the number one film is also unlikely. Your move, "Twilight!"
Speaking of films that maybe should have been in 3D, what about "Babies?" You dropped the ball Focus. The non-fiction, two dimensional adventures of a bunch of babies earned $1.6 million in tenth place. Even with a low screen count of 534, that's not great. Luckily, in a week full of awful, not great is good enough for the second best per theater average in the top 10. It seems like Focus spent a fortune on advertising so let's hope they make it back from the action figures and merchandise.
"A Nightmare on Elm Street" dropped 72% to $9.2 million and second place. Only "Friday the 13th" and "Doom" have dropped harder when opening on 3,000 screens or more, so Freddy is in good company. Of course, Warner Bros. knew all along that they would only have one good weekend and hopefully budgeted accordingly. It's films like this that make my job extremely easy. Whatever the next big horror remake is, I predict will open big and fall hard. Don't even need to know the title. Where do I pick up my check?
Another weekend in the top three for "How to Train Your Dragon" makes it seven in a row. Excluding "Avatar," the last film to accomplish that was "Cast Away." The animated instructional video also crossed the $200 million barrier in the process.
The rest of the top 10 mostly capitulated in the face of "Iron Man 2" and will slowly shuffle off as more summer big guns enter the fray. In limited release, "Mother and Child" had a solid start for Sony Classics, while "Please Give" had a successful mini-expansion from the same studio.
This week I saw "No One Knows About Persian Cats" at the Music Hall and was left disappointed by yet another IFC release this year. If they didn't buy my best friend's movie, I'd have to consider a boycott. Honestly, cultural significance aside, it's a really sloppy, boring film with a horribly melodramatic ending. Pity.
What did you guys see? Here are this week's top grossing films courtesy of Exhibitor Relations: