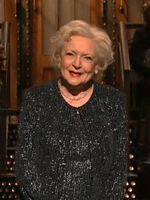 Facebook users got their wish last night as Betty White took the stage on Saturday Night Live…and absolutely KILLED it.
Seriously, has there been a better episode in the last five years (or more)?  I tend to find myself enjoying SNL more often than not lately because I really dig most of the cast, but we still get stinkers.  Gabourey Sidibe's try a week or so back is the most recent example of one that just fell on its face.  But the creative invigoration of last night's telecast was something to behold.  Everyone was firing on all cylinders.
I think we have to look to White for that, not only for the material she herself was responsible for performing (she never missed a beat, mind you), but for the obvious inspiration she brought to the writers and the cast.  Bringing a few of the former female faves back was a shrewd move, and falling the day before Mother's Day was perfect.  "MacGruber," meanwhile, got a hell of a boost leading up to the May 21 release of the film.
It really just doesn't get any better.  I proud of and happy for all involved.  It goes down, for me, as an all time classic.  And perhaps I'm not alone.  The New York Times' Melena Ryzik (better known as The Carpetbagger around these parts) Tweeted after the show that White "left the SNL afterparty to standing ovations and castmembers calling it a historic show."
What left to say, but: Bravo.  (Full episode, courtesy of NBC, after the jump.)
[EDITED TO ADD: I also can't remember the last time a host was literally in every single sketch, including the Weekend Update.  Maybe it's more common than I know, but it was something that struck me.]