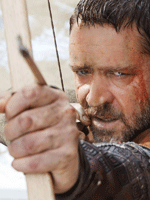 Anne tips us off to the first wave of "Robin Hood" reviews, which were meant to be held until Wednesday, given the Cannes screening and all.  Alas, no one seems to follow embargoes anymore, so the trades, as usual, spilled right after Empire did the same across the pond.
For my part, I've been trying to write a review of the film ever since I saw it last week.  But I never seem to get past a graph or so when I come back to it, because — truth be told — the film just never seems to get out of the gate and is quite forgettable.
It's a prequel to the legend we all know, which is novel and interesting in and of itself, and certainly an attractive enough premise.  After all, the legend is just that, a legend, fit with all the convolution and, in some interpretations, anachronisms that come with the territory.  What better way to strip down and streamline the iconic figure than via a prequel as epic as this, one that plants the seeds for the classic strokes to come?
Well, the basics of filmmaking still apply, I'm afraid.   Ridley Scott's film is, unfortunately, a structural mess with a convoluted narrative, dubious romance, awkward stabs at comic relief and hackneyed tropes of the genre.  Perhaps most unforgivable in a film aiming to be an entertainment: it bores to tears.
The director proves again that his approach to filming action is disorienting, and not in the purposeful way that might be acceptable.  More and more he seems to be taking cues from brother Tony in that light.  Chemistry between Russell Crowe and Cate Blanchett is almost non-existent and the relationship that buds is tough to accept.  The film just sits there, sluggish, fatigued, much like the genre Scott is trying to dress up accordingly one…more…time.
And that's really all I can think to say about it.  Maybe I should be thankful to the gun-jumpers after all.  The pressure of a full review is off.
Anyway, with "Iron Man 2" and "Robin Hood" laying creative eggs early on, it's up to "MacGruber" and a fourth "Shrek" film to save the start of the summer movie season.  God help us…