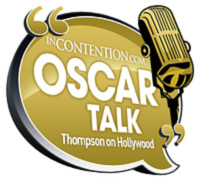 Welcome to Oscar Talk, your one-stop kudocast between yours truly and Anne Thompson of Thompson on Hollywood.
It's been a while, so there was plenty to cover in this, the first of three off-season podcasts we'll offer up through the summer. On the docket today…
• With Cannes around the corner, we briefly size things up. Guy will be covering for us this year and indieWIRE will be heavy on coverage as well, so we talk about what to expect, the rigors of festival coverage, etc.
• Speaking of indieWIRE, Todd McCarthy joined the site a few weeks back and Anne welcomes him aboard on the podcast, excited to be working with her former colleague again.
• Since it's been a few months since we last did one of these, we look back at the year to date and what stands out so far. We both agree on the year's best American film.
• Today is the start of the summer movie season with the release of "Iron Man 2." We talk about our disappointments with the film.
• Finally, we kind of wander around a forecast of the summer to come, looking at a few of the key titles on the way.
Have a listen to the latest podcast below. We go on a bit long, but it's been a while, so forgive us. The next installment of the summer edition will drop, we think, June 11. Until then, remember to subscribe to Oscar Talk via iTunes here.
[display_podcast]