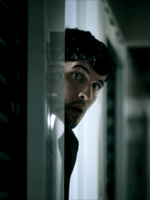 I want to take a moment amid this typical distribution announcement to offer a big congrats to my friends Aaron Katz, Ben Stambler and Brendan McFadden, director and producers of SXSW sensations "Cold Weather." It's a special thing to secure major distribution for your first flick and Aaron has been working hard ever since he nabbed that filmmaking degree in the Carolina Piedmont.
Katz's last film, "Quiet City," made my top 10 in 2007, and if I'm honest, I actually thought "Cold Weather" was a step down creatively.  But the filmmaking is nevertheless more refined (cinematographer Andy Reed moving over to the RED camera makes his skills leap off the screen even more).  I can't wait to see what the boys do next.
The press release, in part:
IFC Films, the leading American distributor of independent and foreign films, announced today that the company has acquired North American and multiple foreign rights including Asia, the Middle East and East-Central Europe to Aaron Katz's critically acclaimed COLD WEATHER…IFC Films will release COLD WEATHER via its IFC in Theaters platform which brings critically-acclaimed independent movies to on-demand viewers at home the same day they premiere in theaters.

President of IFC Entertainment Jonathan Sehring said: "We've always been fans of Aaron Katz's work but, with COLD WEATHER, he has made a great step forward as a filmmaker. It's great fun to see him play with the detective/mystery genre and he's aided by a wonderful cast and fantastic creative team. This is one of the most original American independent films of the year and we can't wait to bring it to audiences via all of our various platforms."
Bravo.