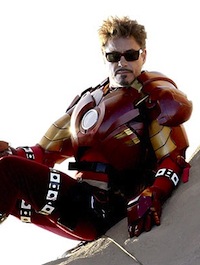 *All historical figures cited are adjusted to today's dollars.
The babies are finally here guys! You've oohed and ahhed at penguins and oceans and Michael Moore, but this documentary finally gives you the chance to ooh and ahh at humans. Specifically, little ones. There's also a silly sounding movie about a man who wears a suit made of armor, but it's not even set in medieval times. He also fights some Russian villain, but it's not even set in Cold War times.
Most importantly, it's officially summer according to Hollywood! Go to the beach, confess your love to your crush and cash in those time shares people!
"Iron Man 2" is opening in 4,380 theaters today. That's the biggest number for a debuting film in history. The first film in the franchise kicked off the 2008 summer season with a $109.2 million debut, en route to a fantastic $352.6 million total, earning more than supposed-summer titan "Indiana Jones and the Kingdom of the Crystal Skull" in the process. As far as sequels go, you can add as many stars, villains, explosions and cameos that you want but the most potent weapon in your arsenal will always be the popularity of the original, and "Iron Man" was extremely popular. An improved debut figure is a virtual certainty but the all time record of $175.4 million for "The Dark Knight" is probably safe.
A prime example is "Transformers." The original debuted with $81.5 million, but was surprisingly satisfactory to people (really, people?) so the sequel debuted with $116.1 million. Meanwhile, "X-Men: The Last Stand" benefitted from good will towards "X2" to debut stronger but then poisoned the well and "X-Men Origins: Wolverine" took a dip. All the ingredients that made the first film popular are seemingly still in place, including Robert Downey Jr., who is just soooo coool. He's just doesn't take himself too seriously, you know? He can just sit on a rock in an iron suit and shades and just chill. He's a chill dude.
Sorry, I lost my train of thought. Anyway, I'd say we're looking at $155 million for "Iron Man 2." But if it's anywhere close to $158 million, Paramount will most likely bump it up enough to claim the unadjusted opening weekend record from "The Dark Knight."
The thorn in Iron Man's side is "Babies." Focus is going semi-wide with this bad boy and are out to take Tony Stark down. To have two documentaries with big studio pushes opening in the same few weeks is pretty exciting. I'm not sure if people are really that amped to watch a 90 minute movie version of that guy in your office showing you his family wallet photos, but maybe I'm wrong. I'll give it a $3 million start and a place near the bottom of the top 10.
So, that leaves us with the holdovers. "A Nightmare on Elm Street" will be lucky to drop less than 65% but it could be more like 70%. Other films with a similar audience to "Iron Man 2" should also buckle. I'm looking at you "Kick Ass" and "Clash of the Titans." Not that "Kick Ass" needed any help exiting theaters in a flash. Really, it's a one movie weekend and we'll be back Sunday to talk about just how massive this bad boy is.
What are you guys seeing this weekend? Stupid question, right? "Babies."