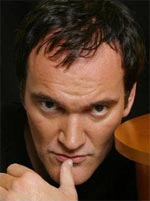 Berlin went with Werner Herzog. Cannes with Tim Burton. Now Venice clearly felt they had to follow suit by tapping an eccentric auteur as jury president for the 67th Venice Film Festival in September. Quentin Tarantino will take the job.
It will, of course, be Tarantino's second stab at chairing the jury of a major European festival: in 2004, he held the position at Cannes, somewhat contentiously throwing his weight behind the decision to award the Palme d'Or to Michael Moore's "Fahrenheit 9/11." Tarantino made no bones about wielding his influence on the awards that year (the runner-up, Park Chan-wook's "Oldboy" was also a film after his own heart), so it'll be interesting to see if he's similarly persuasive in Venice.
Interestingly, unlike Cannes and Berlin, Tarantino has never actually taken a film to Venice — in contrast to last year's president, two-time Golden Lion champ Ang Lee.
Meanwhile, Variety reports that, in addition to Julian Schnabel's "Miral," the Venice lineup will also include Sofia Coppola's "Somewhere," Monte Hellman's "Road to Nowhere" and Francois Ozon's "Potiche." If all goes according to plan, I'll be on the Lido once more to let you know how it all goes down. For now, I've got Cannes on the brain.