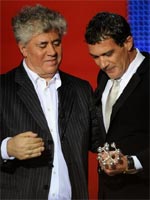 Speaking as we just were of actors returning from the wilderness, when was the last time Antonio Banderas starred in a film you had any interest in seeing? (Talk to the hand if your answer contains the word "Shrek.")
From strained paycheck jobs like "My Mom's New Boyfriend" to gruesomely botched prestige projects like "The Other Man" and "Imagining Argentina," it's been a lean couple of years for Melanie Griffith's better half.
But things are looking up for the Spaniard, who rather improbably hits 50 this year. A role in a Woody Allen film is a pretty hit-or-miss proposition these days, but "You Will Meet a Tall Dark Stranger" is easily the toniest thing the actor has been attached to in years — we'll find out next week at Cannes if the film has the goods.
More promising, however, is news of a reunion with the director who launched him to stardom in the 1980s — one Pedro Almodóvar.
Back when Penélope Cruz was still in pigtails, Banderas was the auteur's first significant muse, appearing in five Almodóvar features from "Labyrinth of Passion" (1982) through to "Tie Me Up! Tie Me Down!" (1990). Shortly afterwards, the English-speaking film world got wind of Banderas's talents and the partnership ceased, but he has never been as limber or charismatic a screen presence as he was in the giddy erotic comedies of Almodóvar's early career.
So it's tempting to speculate that, just as he rescued one-time collaborator Cruz from a tepid English-language career with "Volver," the director has now taken it upon himself to rehabilitate Banderas. The Hollywood Reporter reports that, 20 years after their last teaming, the actor will headline Almodóvar's next project "The Skin I Live In," an adaptation of Thierry Jonquet's novel "Tarantula." Shooting begins this summer.
Those hoping for another bawdy sex farce from the pair should think again, however: Almodóvar describes the  script, which centers on a plastic surgeon seeking revenge on his daughter's rapist, as "the harshest film I've ever written … a terror film, without screams or scares." (Despite the generic one-line pitch, I'm assuming we're not talking "Death Wish VI" here.)
Meanwhile, the director describes his reunion with Banderas as follows:
He's exactly the same as when he left … From the minute he walked in, it was as if we had just finished "Tie Me Up" the night before … I could have continued with a puerile guy with an overpowering power of seduction, but this guy [in "Skin"] is a real psychopath and Antonio, at 50, is perfect for this exercise is something so different from anything I've done until now.
If this is obviously a huge step up for Banderas, it also sounds like a positive development for Almodóvar: after "Broken Embraces" found him treading water aesthetically and thematically, a dramatic tonal shift and a return to a male muse will hopefully reignite his spark. Not that I'm ever "out" with Almodóvar, but, well, I'm in.