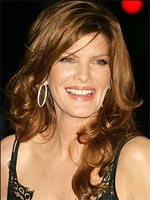 Honestly, the last time the name "Rene Russo" crossed my mind, I was still wearing school uniform and Bill Clinton was still president of the United States. Even then, it was only fleetingly: if you want the last time she was in a film that actually merited a second thought, we're looking more at the year my voice broke. (Yes, that'd be "Tin Cup.") How time flies.
Of course, film history is littered with the swiftly curtailed careers of briefly ubiquitous stars — women in particular, given the regrettable age-40 sell-by date the industry still applies to many actresses. Hey, remember Madeleine Stowe? Andie MacDowell? Penelope Ann Miller? I can't say Russo's big-screen absence struck me as especially conspicuous, but Telegraph arts editor Sarah Crompton clearly thinks otherwise.
Crompton takes the casting of Russo in Kenneth Branagh's Marvel comic adaptation "Thor" — her first film role in over five years — as occasion for a valentine to the actress, holding her up as a 1990s ideal of "the woman every woman wanted to be," and mourning a larger absence in the process.
She writes:
I miss her. But it's not just Russo who has vanished from the cinema. It is women like her. The forceful appearance of Vera Farmiga playing a character with moral ambiguity and a fully-realised life in Up in the Air makes you realise just how rare these richly drawn characters are nowadays. She, like Russo in her prime, is a proper counter-weight to her male co-star, a rival to George Clooney's shiny charisma and not a make-weight love interest to add to his gloss.
I'm not convinced that even Russo's best roles were as richly drawn as all that — her résumé is heavy on decorative-but-feisty subsidiaries to male protagonists — nor that the outlook for spiky women in Hollywood is that much bleaker than it was in, say, 1996. Vera Farmiga is an apt example, but she hardly stands alone: I'd say the disparate likes of Marion Cotillard, Catherine Keener and Ellen Page have held up their end of the bargain too.
Still, it's refreshing to read someone tackling the gender question without resorting to distant Kate Hepburn nostalgia. Have you missed Russo, or anyone else of her generation?