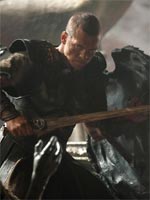 By now, you may have read Roger Ebert's lengthy nine-point diatribe against 3D in Newsweek — it has certainly generated a substantial amount of online conversation in the last few days.
On the face of it, as a declared 3D agnostic myself, I should be pleased with the article: when a "Clash of the Titans" proves the technology a potential artistic liability as emphatically as "Avatar" suggests the opposite, 3D needs to be both argued for and argued with.
I fear Ebert, however, has slightly let the opposing side down: his piece is impassioned and sincere, but for every viable point he makes — and there are several — there's another that is short-sighted, obstinate or just tautological: however much you may agree, it's difficult to accept "it adds nothing to the experience" and "it's a waste of a dimension" as separate claims in a serious argument, as opposed to simple whining.
Twice, he essentially repeats the point that he finds the idea of a "serious" (read: character-oriented) drama in 3D inconceivable, citing the recent 2D likes of "The Hurt Locker" and "Precious" as great cinematic experiences that would gain nothing from the technology. (I must disagree in the latter case: that TV set hurtling down the stairs in 3D would have added an appropriately lurid Grand Guignol note to "Precious.") That is as may be, but we also have yet to see a film of this nature attempt to engage with 3D, successfully or otherwise: silent film audiences may have found talkies "hard to imagine," but that was no excuse not to experiment with the possibility.
It's in broaching that parallel, meanwhile, that Ebert curiously undermines his own argument — his caps in the quote:
WHENEVER HOLLYWOOD HAS FELT THREATENED, IT HAS TURNED TO TECHNOLOGY: SOUND, COLOR, WIDESCREEN, CINERAMA, 3-D, STEREOPHONIC SOUND, AND NOW 3-D AGAIN.
I think even Ebert would agree that sound and color were pretty beneficial additions to the cinematic landscape; widescreen and stereo sound have their uses, too. If those innovations were the result of industry panic, then people should threaten Hollywood more often. I'm not suggesting that 3D ranks with these one-time gimmicks (which, let's be honest, is probably how audiences viewed them on first acquaintance) turned mainstays of the craft, but by listing them together, Ebert is oddly making that implication himself.
Perhaps aware of such holes in his argument, Ebert buckles slightly in his resistance towards the end of the piece, allowing that he "loved" the application of the technology in "Avatar," and expressing his faith in the abilities of Martin Scorsese and Werner Herzog to use it wisely in their upcoming 3D projects. (He substantiates his conviction by stating that "Scorsese and Herzog make films for grown-ups [while] Hollywood is racing headlong toward the kiddie market," slightly ironic considering that "The Invention of Hugo Cabret" will be Scorsese's first foray into children's cinema.)
If there's an element of old-fashioned auteur snobbery there, most of us are guilty of the same to some extent — though Tim Burton recently proved that even brand-name auteurs can stumble when 3D is thrust upon them by studios, rather than the other way round. Though I'd venture that half-baked 3D is hardly the most crucial of "Alice in Wonderland"'s shortcomings, Ebert's strongest point is one many have made before him: the technology can only be an asset to a film conceived around it. (Like Ebert, I have no interest in seeing "Titanic" rejigged for 3D either.)
But the same is true of the superfluous digital effects, explosions or instances of stunt casting used to trick out many a second-rate blockbuster: like any filmmaking tool, 3D will only be effectively employed by the talented minority.   That doesn't make me any more enthusiastic about the spate of production-line 3D titles lying ahead of us, but at the risk of sounding overly resigned, what was to look forward to in the first place?