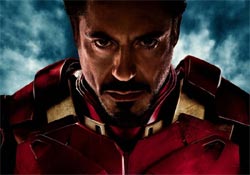 "Good is the enemy of Great," wrote Jim Collins, in one of the more high-maintenance self-help plans you're likely to encounter. As nice a thought as it is, this law appears to have no place in the world of the Hollywood franchise blockbuster, where Crap is the enemy of pretty much everything, and Good is usually one courtesy too many for time-strapped, dollar-eyed producers.
With myriad noisy-yet-joyless "Transformers" types littering the release schedule each summer, then, the bar for commendability is set rather low: it often takes but one redeeming feature to launch such products into critics' good books in addition to the box office charts.
It's in this way that Jon Favreau's "Iron Man" carved a reputation as one of 2008's pleasant surprises: narratively choppy, technically perfunctory and indifferently performed in support, it nonetheless boasted a star turn from Robert Downey Jr so fleet-footed and gleefully off-message that it made all the surrounding elements seem wittier by sheer association.
It should come as no surprise to students of the Hollywood mainstream that Favreau's swiftly delivered sequel, already raking in the cash on its European release, aims no higher, and reaches no wider, than its predecessor. By and large, Favreau and his collaborators have figured that the shortcuts they got away with in the first film are still fit for purpose.
As such, aggravatingly few demands are again made of cinematographer Matthew Libatique's ample gifts, the effects are as plentiful but plasticky as before, and no attempt has been made to (forgive me) iron out lingering script issues, as the film remains in doubt over such issues as the simple wherefores of Tony Stark's mission, or the purpose of women in general.
Oddly, considering it has one writer (actor Justin Theroux, for reasons unclear) to the original film's four, the script is even vaguer and more distended this time around, hurriedly cramming in extraneous villains and subplots, giving the sense of an all-star cast drafted ahead of their characters. Separate conflicts between Downey Jr's Stark and his girlfriend, business rival, sidekick, rather randomly inserted Raw-shun nemesis and even his own body are mashed together so haphazardly, it's some time before we figure out they're not terribly related.
But if this in a film both overpopulated and slightly unmoored – not too mention a good 20 minutes too long – there's still fun amid the clutter. Mickey Rourke's leering, thickly accented Whiplash may not be all that motivated or necessary a presence, but in a crude entertainment likes this one, he's better in than out; much the same goes for Scarlett Johansson as Stark's illegal-looking, ass-kicking PA, even if she serves no purpose beyond rendering Gwyneth Paltrow's Pepper Potts even more dour and cheddary by comparison.
The real MVP here, however, is Sam Rockwell: marvelously unctuous and in possession of all the best lines as rival magnate Justin Hammer, he makes the strongest case for a return in the inevitable third instalment.
Lording supremely above it all, of course, is Downey Jr, as uninterested as before in the mechanics, physical and otherwise, of the Iron Man persona, and once more wilfully – and successfully – constructing a character entirely from his own star magnetism. If he's not breaking the lightest of sweats with this sly assembly of smirks and asides, it's because he knows this offhand irony is precisely what the film runs on.
Tellingly, "Iron Man 2" lags most when Stark dons his iron mask and the film enters all-action mode – save a zippy early set piece at the Monaco Grand Prix, the film never bridges the discontinuity between actor and faceless superhero in these scenes, and the former's absence is sorely felt. The film may be no friend of Great – indeed, it's barely one of Good – but Downey is happy to serve as the go-between.