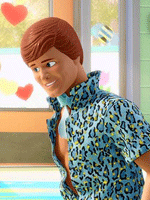 One of the big reasons for me to get excited for Adam McKay's "The Other Guys" was that Michael Keaton, after suffering through a slew of straight-to-video or otherwise forgettable films, would have a front-and-center performance in what should be a commercially successful film.
I remain faithful to Keaton despite the lows.  But let's face it.  The last time he had a theatrical starring role was the deplorable "White Noise" (and before that it was 1996's "Multiplicity").  The last time most remember seeing him on screen was probably 1997's "Jackie Brown."
Of course, there was his directorial debut, "The Merry Gentleman," which opened last year and surely demanded plenty of his time.  And there have been some nice TV offerings (such as "The Company" a few years back and "Live From Baghdad," which is actually nine years ago at this point).
Anyway, I was excited when it was announced that Keaton would be working with Pixar again, this time as the Ken doll in "Toy Story 3." Susan King caught up with the actor recently for a Los Angeles Times piece, and he definitely seems to be having fun with things.
Like this answer to a question regarding Ken's back story:
It's so great to have these conversations with a straight face. I'll challenge anyone to talk about this and not start to, like, grin. You have to shoot your face up with Novocain to have these conversations. Ken actually serves as kind of a concierge — somewhere between a tour guide, a concierge, maitre d' and ambassador. He's not only alone in his dream house but probably alone in the dream.
Unfortunately, two more nothing queries with nothing answers and that's the end of the piece.  Not that I need a giant profile built around the guy for a role like this (The Guardian did a good job of that last year, anyway).  But I don't know, a LITTLE substance?
Meanwhile, here's hoping Keaton finds a role that speaks to him and launches him out of the background once again.  Would be nice.  And for the hell of it, the trailer for "The Other Guys":
"Toy Story 3," meanwhile, opens nationwide June 18.