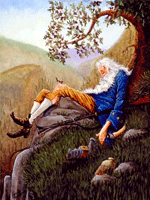 I guess it's time to get back to work.
I don't have a beard to my knees but I do feel a bit like Rip Van Winkle dragging himself out of a nice slumber these days.  May is here.  This Friday kicks off the summer movie season with the release of "Iron Man 2," while Anne Thompson and I will offer up the first of a handful of off-season podcasts the same day.  Then, next week: Cannes.
Guy will be covering all the goings on from the Croisette this year, In Contention's first time at the fest.  And I'm proud to see our festival coverage steadily increasing.  Things get started next Wednesday, May 12, wrapping up 11 days later on the 23rd.  Monday, May 24th will bring the first detailed Off the Carpet column of the new season, fit with my first (still too early) set of official Oscar predictions.
Soon after, Guy will also be kicking off this year's Page to Screen series, which will bring us through the summer and up to the brink of film awards season.  For my part, once again, there won't be weekly prediction updates until post-Telluride/Toronto.  But the summer films, a variety of weekly columns and the monthly Oscar gauging will give us plenty to chew on as we begin to ramp consistent coverage back up around these parts.
It's nice to see we haven't missed much the last two months.  The drama of bloggerdom filled a few copy inches once again, publicity stills and release date announcements for hotly anticipated comic adaptations got the geek world in a predictable frenzy, some key dates for the awards season were announced and everyone thinks Hank Azaria looks awful as Gargamel.  But for the most part, lots of nothing.  Especially if you consider the films.
I haven't seen a lot.  I've been (happily) buried under a number of other projects, but I'll fire off what comes to mind.
Like "The Wolfman," which wasn't nearly as bad as I thought it would be and is in fact the most streamlined and least cluttered version of the classic story yet put to film.  Also working perfectly well as genre, though certainly more thought-provoking, was Martin Scorsese's relatively dismissed "Shutter Island."
Fanboy favorite "Kick-Ass," on the other hand, had little to say that "Blankman" didn't already cover 15 years ago, while Paul Greengrass's "Green Zone" managed to distill complex ideas enough for entertainment value, but was categorically forgettable as a result.
By a landslide, the year's best films so far are the foreign "A Prophet" and the animated "How to Train Your Dragon." Intriguing start.  I look forward to filling in the gaps throughout the summer.
"Iron Man 2" has been screening to the choir for a while and has already opened overseas (I haven't seen it yet — Guy's thoughts are here), while "Robin Hood" begins to unfold in earnest tomorrow.  Here's hoping the two films kick off an exceptional summer season.
As for the content, Chad's Life Without Oscar series will shift to Wednesdays this week and will carry all the way into December, if you can believe it.  As mentioned, after Guy wraps up Cannes coverage, he'll launch into this year's Page to Screen series (which focuses on source material for the year's adaptations) Tuesday, June 1.  And Gerard will saddle back up to Tech Support's first 2010 volume on Thursday, July 8.
And we're off.  More on Friday's Oscar Talk.