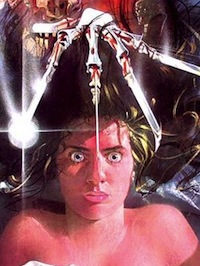 *All historical figures cited are adjusted to today's dollars.
26 years ago, "A Nightmare on Elm Street" opened to $2.9 million on 165 screens and enjoyed healthy word of mouth to reach $55.5 million total, putting Wes Craven and New Line Cinema on the map in the process. Now New Line is owned by Warner Bros. and Wes Craven is back to milking a different old cash cow, but Freddy Krueger has made his way back to the silver screen. Jackie Earle Haley takes over for Robert Englund and audiences showed enough interest to cough up $32.2 million to check it out.
That's better than the $29.2 million of "Halloween," but not quite as good as the $35.5 million of "The Texas Chainsaw Massacre." Word of mouth is almost guaranteed to be poisonous and it may as well not exist when "Iron Man 2" opens next week so I'd consider it a success if the film can make $60 million total. That should still be profitable for Warner Bros. and ensure at least six or seven sequels.
The only other new release was "Furry Vengeance," which took fifth place and $6.5 million. It's too depressing to even dedicate a few minutes trying thinking of a joke for this movie. I actually think "Cruel Intentions" and "Just Friends" are better than they should be so it's a shame to see Roger Kumble fall so far. He was probably my favorite hack director, but now he's lost me.
"Date Night" posted the best hold of all films in the top ten, dipping only 27% and holding tight at number three. The early April release date is starting to look like a shrewd move and if the film had gotten a little bit more punch into its debut, it could really be soaring past the $100 million mark by now.
"How to Train Your Dragon" takes the runner-up spot in its sixth weekend. Another $10.8 million represents a 30% drop and becomes the first animated film to log six consecutive weeks in the top three since "Aladdin." Useless trivia of the day.
"The Losers" and "The Back-Up Plan" didn't drop as harshly as I thought, with the former sliding a very respectable 36%. Still, 64% of not a whole lot is nothing to get too excited about. Ya losers. Jennifer Lopez's film dropped 40% and continues to perform at the absolute bare minimum required for us to not be able to completely write her off. You win this round Ms. Lopez but we'll see what happens if you really remake "Overboard."
In limited release, Sony Classics did very well with Sundance entry "Please Give." The film looks more "Sunshine Cleaning" than "Capote" so I don't think we need to update our Oscar charts just yet. And "The Human Centipede" found $13,500 worth of New Yorkers who have caused me to lose a little more faith in humanity.
This week I begrudgingly saw "Greenberg" and found myself completely head over heels for it. Focus did a horrible job hiding everything good about the movie in the trailers in an attempt to not put off Ben Stiller's audience and it didn't even work. He's incredible and I'm a bit biased, but Greta is great as well.
What did you guys see? Here are this week's top grossing films courtesy of Exhibitor Relations.