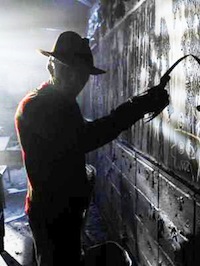 *All historical figures cited are adjusted to today's dollars.
The summer movie season doesn't officially start until next weekend, but Warner Bros. aims to get a jump on things by releasing their high profile horror remake, "A Nightmare on Elm Street" before the storm. By all accounts, it should work, as horror audiences have proven time and again that they'll fork over their money to see any movie they previously liked redone with slightly darker lighting, slightly less imagination and infinitely more budget money.
I once thought that this particular remake was doomed because unlike the Jason or Halloween franchises, the iconic central character was tied to one actor and fickle audiences might not respond to any recasting. Of course, this was ridiculous thinking on my part and this film will be bigger than either of those other reboots. At least on opening weekend. "Friday the 13th" made $41.4 million on its opening weekend last year, with the help of Monday being a holiday and I think we can look for something similar here. And hundreds of lazy hipsters who already own striped red sweaters have locked down their Halloween costumes.
I think the next horror flick to get a remake should be "April Fool's Day." That thing scared the crap out of me when I was a kid. Or "The Peanut Butter Solution," which isn't a horror film but something that still haunts me to this day. His hair just grows and grows!
Speaking of horror, Brendan Fraser squares off against pissed of animals in "Furry Vengeance." I feel like that title has to be a pun on something but I can't for the life of me figure out what. I refuse to believe the filmmakers opted for a non-pun title on this project. Brendan Fraser can open a movie where he runs away from things yelling in the desert or the center of the Earth, but he has a hard time with family comedies. "Monkeybone" anyone?
Summit also has no experience releasing this type of film. Their forte is still broody vampires and Best Picture winners (and you heard it here first, "Eclipse" is gonna be both!) Kids can only see "How to Train Your Dragon" so many times, but still. This thing is not going to make any money. Maybe if the animals talked, you could add a couple million to the tally, but a non-pun titled family film with non-talking animals? Please. $6 million tops.
Last weekend's openers are almost too depressing and forgettable to mention. But "The Back-Up Plan" could fall a decent 40%, while "The Losers" will be lucky to keep half of its audience. "Date Night" and "How to Train Your Dragon" will continue to hold well, sucking up the last bit of scraps before summer obliterates them.
Oh, and for anyone who thinks Freddy Kreuger is too cuddly, go see "The Human Centipede" and see if you ever eat, sleep or leave the house again. Last weekend before Robert Downey Jr. does his flippant, too cool for school thing in an armor costume!
What are you guys seeing this weekend?