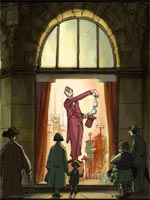 Quelle surprise. "The Illusionist," Sylvain Chomet's long-gestating follow-up to the Oscar-nominated "The Triplets of Belleville," has found the US distributor we all knew it eventually would. Sony Pictures Classics today announced their acquisition of the film, which they are readying for an end-of-year release — mirroring the strategy they took with "Belleville" back in 2003.
In doing so, Sony has all but secured its first Oscar nomination of the 2010 season. "The Illusionist" — a riff on an unproduced Jacques Tati screenplay and handily, for me, the year's best film so far — is too ravishing an animator's showcase not to gain serious awards notice, and a late-2010 release should keep it fresh on the radar.
In the meantime, the film will continue to wow on the festival circuit. It has already been selected to open the Edinburgh Film Festival in June — an ideal choice, given that the film is something of a valentine to the Scottish capital. Check out my review of the film from the Berlinale here, and an early Russian trailer here.
Full press release from Sony after the cut.
NEW YORK, NY (April 26, 2010) – Sony Pictures Classics announced today that they have acquired all North American rights to Sylvain Chomet's THE ILLUSIONIST from Pathe. The film is based on an unproduced screenplay by Jacques Tati and is produced by Bob Last and executive produced by Jake Eberts and Philippe Carcassonne (COCO BEFORE CHANEL). THE ILLUSIONIST had its world premiere at the Berlin Film Festival as a Berlinale Special Selection. It is planned for an end of year release.

Sony Pictures Classics previously worked with Chomet on his Academy Award® nominated film THE TRIPLETS OF BELLEVILLE and Carcassonne on COCO BEFORE CHANEL.

THE ILLUSIONIST details the story of a dying breed of stage entertainer whose thunder is being stolen by emerging rock stars. Forced to accept increasingly obscure assignments in fringe theaters, garden parties and bars, he meets a young fan who changes his life forever.

"Collaborating with Sylvain on THE TRIPLETS OF BELLEVILLE was such a fantastic experience; we are so thrilled to be back partnering with him again on THE ILLUSIONIST, as well as our friends at Pathe, and producers Bob Last, Jake Eberts and Philippe Carcassonne. With a moving storyline and a work of art in each frame, audiences both young and old will connect with this film," stated Sony Pictures Classics.

"There could not be a better home for THE ILLUSIONIST, Sony Pictures Classics understands the strengths of Sylvain's work and have the passion required to take the film to the widest possible audience. I am delighted to be working with SPC again," said producer Bob Last.

Executive producer Philippe Carcassonne adds, "We're obviously thrilled to work again with the team behind so many of tomorrow's classics – which is exactly what I hope THE ILLUSIONIST will soon become."