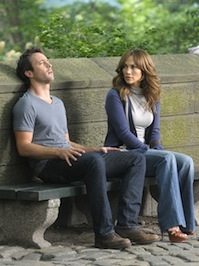 *All historical figures cited are adjusted to today's dollars.
Jennifer Lopez hasn't been on screen since "El Cantante" in 2007 and hasn't toplined a romantic comedy since "Monster-in-Law" in 2005. That's a long, five year gap and it's no surprise that J. Lo is returning to the only genre that has brought her success to make a comeback. Unless you count "Anaconda," which I don't, because obviously, the real star of that movie was Owen Wilson.
But now she's back with "The Back Up Plan," a hilarious comedy about first dates and due dates. And kooky lesbians having natural birth parties and playing bongos. Lopez will get no help courting audiences from her male co-star, who is completely unknown to anyone who isn't an enormous fan of "Whiteout" or "The Invisible."
She is getting a lot of help from CBS Films, who are promoting the living piss out of the movie, despite seeing no return for similar efforts with "Extraordinary Measures." The trailers are weak, the premise is ridiculous and the leading actress is on the decline. So why do I get a horrible feeling that this will actually do alright? The market is a wasteland at the moment and romantic comedies are nowhere to be found so I think this one may walk away with $11 million or so.
Warner Bros. tries a little reverse psychology with the title of their new film. You see, "The Losers" is actually about a bunch of badass tough guys who are totally awesome. They fight and blow shit up and hang out with chicks who are really into that sort of thing. The movie stars Javier Bardem Jeffrey Dean Morgan, Zoe Saldana, Chris Evans and Jason Patric in a who's who of people-soon-to-be-way-more-famous or used-to-be-way-more-famous. It's also from the director of "Stomp the Yard" so don't be surprised if there's a dance-off to settle the whole CIA revenge thing. I'm thinking another $11 million figure here so the race could be tight.
The race for second place that is, because "How to Train Your Dragon" should take the top spot after narrowly getting pipped to the crown by "Kick Ass" last week. The animated hit has had stellar word of mouth and should easily capitalize on the weak new releases to emerge victorious. It may even improve on its gross from last week. You never know. "Kick Ass" will have to settle for a 50% drop I'm afraid, even though IMDb tells me it's one of the greatest movies ever made (slightly better than "Cool Hand Luke" and "High Noon"). "Death at a Funeral" will also fall in the 40-50% range, unless I'm underestimating the rewatchability of Martin Lawrence saying, "Daaamn!"
But wait! Is "Oceans" a potential spoiler? The movie opened at number one yesterday, on Earth Day, with $2.5 million. Well, "Earth" grossed $4.1 million on Earth Day last year en route to a $9.1 million weekend so I think we can expect "Oceans" to do around $6 million. Limiting their scope seems to have limited their grosses. Bad news for the next title for DisneyNature- "Sticks."
That's it. I think we're looking at one of the lowest grossing weekends of the year and a chance for everyone to chill out and go play Laser Tag instead. Or whatever the kids do these days.
What are you guys seeing this weekend?