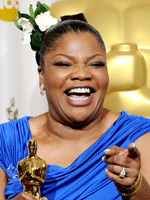 I wasn't able to participate in Robert Welkos's Hollywood News piece on the drama of bloggerdom (which was already covered to some extent by LA Magazine three years ago). Travel and a period of self-imposed distance from this circus kept me off the phone, but even if I had answered a few questions, I don't really know what I could have added in the way of fresh perspective at this point.
However, one thing caught my eye that is laughable on its face:
"Mo'Nique was addressing me in her Oscar acceptance speech," [Gold Derby's Tom] O'Neil told HollywoodNews. "I had been very critical of her not campaigning when she should have." O'Neil said after the speech, he received "200 e-mails" congratulating him.
I appreciate that O'Neil may have received some correspondence from this person or that after the Oscars, whether "200 e-mails" is a gross exaggeration or not. And I appreciate that he sees himself as spear-heading a movement against Mo'Nique's withdrawal from the traditional Oscar campaign circuit when it was really folks like Jeff Wells who obsessed over it.
But to think Mo'Nique's on-the-mark comment in her Oscar acceptance speech was directed toward him (more so than the collective media) is…come on. Or maybe O'Neil actually does mean the media when he says that, I don't know. But the fact remains, with all that in mind, Mo'Nique's win is one of the Academy's shining moments, no matter how butt-hurt folks like O'Neil and Wells feel over her willful campaign neglect.
By the way, with all those criticisms directed toward Mo'Nique, where was the same attitude for George Clooney? He probably did less than she did. Meanwhile Jason Reitman was being criticized for doing too much (uh, someone has to pick up the slack). Was Mo'Nique just too, I don't know, "uppity" for white media tastes or something? Too much gall for such a newbie to the circuit to exhibit? Don't want to think that hard about it?
Just saying…