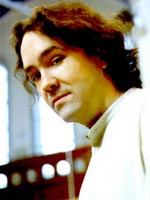 Amid his coverage of the Nashville Film Festival, Nathaniel Rogers at The Film Experience served up a nice little nugget on composer Carter Burwell, the subject of a much-deserved individual tribute at the fest. Naturally, there was much emphasis on his ongoing collaboration with the Brothers Coen, which will continue this year with "True Grit."
His score for the film is still in the conceptual stages, but his current source of inspiration suggests something typically singular is in the works:
"We don't always see eye to eye." Burwell noted when discussing his 14th collaboration with Joel and Ethan Coen. But when it came to the conception of the True Grit score "We both had the same idea at the same time: Protestant hymns." The composer went on to explain that the lead character, Mattie Ross (to be played by Hailee Steinfeld) was so convinced of her own righteousness that they all thought Protestant hymns would be a fine way to play with her misplaced rectitude … He's currently looking for appropriate hymn recordings but griped that "they all sound too sweet."
He's quick to note, however, that the musical direction of the piece could change significantly over the months, but I like the humor apparent in this approach. I can't say that "True Grit" has had me salivating in anticipation — the original 1969 film is a clunker, Oscar notwithstanding — but this kind of attention to detail, plus Burwell's promise that "we're trying to go back to the book as much as possible and ignore that film," bodes well.
Meanwhile, the apparent accord between Burwell and the Coens on this project stands in contrast to the experience the composer related to us on their previous collaboration. "Sometimes they really know exactly what they want," he said in a Tech Support interview in January.  "There are other times where they have no idea … 'A Serious Man' was one of those."
Read the rest of Nat's piece here.