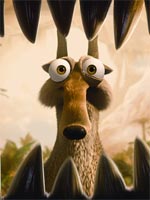 Well, you were right. But for the true completists among you — we do promise awards coverage "this deep," after all — here's a suitably obscure nugget to wrap up the 2009 parade.
The Ivor Novello Awards supposedly honor the finest in British music composition, and while they receive a reasonable amount of press in the UK for their pop music citations, many aren't aware that they have a film score category too. With that in mind, the nominees for Best Original Film Score are:
John Powell, "Ice Age 3: Dawn of the Dinosaurs"
Helene Muddiman, "Skin"
Ilan Eshkeri, "The Young Victoria"
Well, now you know. I'd say the nominating committee clearly didn't see "Moon," but hell, they saw "Skin." Curious. Still, any organisation that recognises the songwriting skillz of both Lily Allen and The Duckworth Lewis Method ain't all bad.