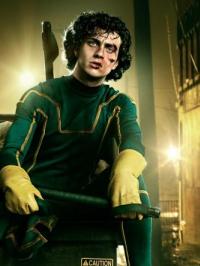 *All historical figures cited are adjusted to today's dollars.
Internet nerds once again failed to make their presence known at the multiplex as "Kick Ass" surrendered to the runner-up spot on a relatively weak frame. As significant as online and fanboy buzz can be, time and again it has led to disappointing debuts more than bank-breaking grosses. "Sky Captain and the World of Tomorrow," "Grindhouse," and "Snakes on a Plane" are just a few of the recent examples. If it wasn't for the success of "Sin City" and "300," Hollywood would probably disregard the internet all together.
But let's start at the top. "How to Train Your Dragon" becomes the first film since "The Chronicles of Narnia: The Lion, the Witch and the Wardrobe" to return to the summit of the box office after a hiatus. A slim drop of 20% earned the animated comedy $20.0 million and ups the cume to $158.6 million after four weeks. The $229.8 million it would need to become the highest grossing non-"Shrek" film for DreamWorks Animation is not out of the question, although still a bit unlikely.
"Kick Ass" debuts with $19.8 million and will still end up profitable for Lionsgate and the filmmakers, but reiterates the ceiling for R-rated comic book adaptations. Coincidentally, the debut is almost identical to another R-rated action flick that Lionsgate bought after fanboys went nuts at preview footage- "Rambo." It may have suffered from some younger kids buying tickets to "Dragon" and sneaking in, but it may have also suffered from the amount of people who get boners thinking about pre-teen girls with guns being significantly lower than expected.
"Death at a Funeral" winds up in fourth place with $17.0 million, but can boast the highest per theater average of any film in the top 10. If only everything Chris Rock touched had this kind of success, I wouldn't be defending "Pootie Tang" on a daily basis as a criminally underseen masterpiece. Alas, it's quickly on to the next incomprehensible remake for Rock (Akira Kurosawa if the rumors are true).
"Date Night" held reasonably well, preventing its disappointing debut from becoming disastrous. Another $17.3 million puts it just below the $50 million mark after ten days. For a second there, it seemed like it may end up grossing less than Shawn Levy's first attempt at the date crowd, "Just Married," and that would have been embarrassing to everyone.
In limited release, "Exit Through the Gift Shop" played like gangbusters in New York and L.A., while "The Secret in Their Eyes" had a solid debut on 10 screens. Somehow "The Joneses" didn't do atrocious business and "The Girl With the Dragon Tattoo" continues to be the indie-sleeper of the year.
I saw "The Ghost Writer" this week and for a while I thought the only bad thing about it was Kim Cattrall's horrible performance, but then the last five minutes ruined everything and I can't get that bad taste out of my mouth. Still, infinitely better than "Shutter Island."
What did you guys see? Here are the weekend's top domestic grossers, courtesy of Exhibitor Relations: