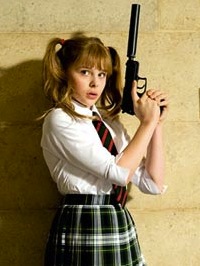 *All historical figures cited are adjusted to today's dollars.
Ever since it unveiled footage at Comic-Con last year, fanboys and internet hounds have been frothing at the mouth for Matthew Vaughn's "Kick Ass" and now it has finally arrived. Internet buzz is deafening, but also misleading as it's never quite clear whether we are looking at a "300" or a "Snakes on a Plane." Lionsgate doesn't have a whole lot at stake, picking up distribution rights after the film was nearly complete and only really needs to recoup their marketing costs, which still seem to be a pretty penny.
The R-rating and the lack of a huge studio behind it limits the potential, as does the fact that it celebrates children inflicting violence. Of course that's also the very thing that makes it so appealing to the target audience. So if you think that above photo is awesome and totally subversive, then you've probably already bought your ticket. I think there will be roughly $23 million worth of you.
Fresh off of remaking Eric Rohmer, Chris Rock takes on Frank Oz. That transition is only natural. "Death at a Funeral" only came out two and a half years ago, but that version didn't have bloated Luke Wilson or bloated Martin Lawrence. For those that do need a sense of continuity, a non-bloated Peter Dinklage returns.
Sony's Screen Gems arm typically releases one or two films aimed at the African-American audience every year to solid returns. "Obsessed" earned $29.2 million in its April opening weekend last year. On the comedy front, "First Sunday" started with $18.8 million in January of 2008. The star-studded cast should help this one to around $23 million as well, making it another photo finish at the top of the box office.
In limited release, Oscar winner "The Secret in Their Eyes" finally sees the light of day and should eventually earn Sony Classics north of $2 million. The real performer to watch though, is "Exit Through the Gift Shop," which is already selling out shows in New York and L.A.
Expect "Kick Ass" and "Death at a Funeral" to combine and knock the stuffing out of "Date Night," which could fall 55% from an already tepid debut. "Clash of the Titans" could also suffer from the comic book sendup, while "How to Train Your Dragon" should experience another solid hold. Really, everyone is just biding their time until "Iron Man 2" opens in three weeks and blows all of our feeble minds.
What are you guys seeing this weekend?