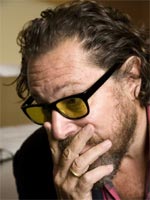 One of the more eyebrow-raising omissions from the Cannes official selection announced this morning was Julian Schnabel's "Miral." The New York artist's biopic of Hind Husseini, with a cast including Hiam Abbass, Willem Dafoe and Freida Pinto, had been widely deemed a good bet for the competition lineup, given its lofty arthouse profile and the Cannes success of Schnabel's last feature, "The Diving Bell and the Butterfly," for which he won the Best Director award.
Roger Friedman reports, however, that this year Schnabel was offered only an out-of-competition slot by festival organizers. The director declined the offer, choosing instead to unveil the film on the fall festival circuit: "Miral" will therefore premiere at the Venice Film Festival in September, before moving on to Toronto.Venice, of course, is where Schnabel premiered "Before Night Falls" in 2000 — he has form in both festivals.
If the film turns out well, it won't be the first time Venice has successfully fed off the bigger festival's leftovers: both "Vera Drake" and "Brokeback Mountain" debuted on the Lido (and went on to win the Golden Lion) after being turned down by the Cannes selection committee.