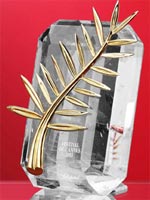 Okay, before you ask, "The Tree of Life" is reportedly not ready — though the Cannes selection has apparently seen a cut, so never say never. Four slots in the competition lineup have yet to be filled.
That aside, many of the expected names are present and correct, including former Cannes champs Leigh, Kiarostami, Mikhalkov, Tavernier, Weerasethakul and González Iñárritu. (Beefing up the veteran auteur quotient, Jean-Luc Godard shows up in the very appetizing Un Certain Regard strand, as does 101 year-old Manoel de Oliveira.)
On paper — which is all we have at the moment, after all — it's the first two of the aforementioned directors that I'm most excited to see in competition: "Another Year" will mark Leigh's first trip to Croisette since the undervalued "All or Nothing" in 2002, and boasts the almost unfeasibly Leigh-ian cast of Imelda Staunton, Jim Broadbent, Phil Davis and Lesley Manville.
Meanwhile, Kiarostami's "Certified Copy" — a romantic drama starring Juliette Binoche, and the director's first film to be shot outside his native Iran — has had me curious for the better part of two years now. I sensed this might be afoot when Binoche was revealed as the official face of this year's festival.
(More thoughts, and a complete list of films in the official selection, after the cut.)
The most mainstream title gunning for the Palme d'Or, however, is Doug Liman's "Fair Game": not, regrettably, a remake of the classic 1995 Cindy Crawford vehicle of the same name, but a political thriller-biopic starring Naomi Watts as unmasked CIA agent Valerie Plame, and Sean Penn as her husband Joseph Wilson. Jeff Wells has been champing at the bit for this one; however it turns out, a Cannes competition slot is quite a rebound for a filmmaker who last hit screens with, er, "Jumper."
Meanwhile, as was widely anticipated, Woody Allen and Oliver Stone will both present their new features out of competition, lending the festival some star wattage in the process; joining them is Stephen Frears, with his Gemma Arterton-starring graphic novel adaptation "Tamara Drewe."
Finally, a reminder that I'll be attending this year's festival, so we'll be bringing you first-hand festival reports for the very first time. Stick around for joy, as The Sugarcubes would say. I'll discuss the lineup more in due course, but for now, here it is:
IN COMPETITION
"Another Year" (Mike Leigh)
"Biutiful" (Alejandro González Iñárritu)
"Burnt by the Sun 2" (Nikita Mikhalkov)
"Certified Copy" (Abbas Kiarostami)
"Fair Game" (Doug Liman)
"Housemaid" (Im Sang-soo)
"La Nostra Vita" (Daniele Luchetti)
"Of Gods and Men" (Xavier Beauvois)
"Outrage" (Takeshi Kitano)
"Outside the Law" (Rachid Bouchareb)
"Poetry" (Lee Chang-dong)
"The Princess of Montpensier" (Bertrand Tavernier)
"A Screaming Man" (Mohamed-Saleh Haroun)
"Tournée" (Mathieu Amalric)
"Uncle Boonmee Who Can Recall His Past Lives" (Achitpong Weerasethakul)
"You, My Joy" (Sergei Loznitsa)
OUT OF COMPETITION
"Robin Hood" (Ridley Scott) (opening film)
"Tamara Drewe" (Stephen Frears)
"Wall Street: Money Never Sleeps" (Oliver Stone)
"You Will Meet a Tall Dark Stranger" (Woody Allen)
UN CERTAIN REGARD
"Adrienn Pál" (Ágnes Kocsis)
"Aurora" (Cristi Puiu)
"Blue Valentine" (Derek Cianfrance)
"Chatroom" (Hideo Nakata)
"Chongqing Blues" (Xiaoshuai Wang)
"The City Below" (Christoph Hochhäusler)
"Film Socialisme" (Jean-Luc Godard)
"Ha Ha Ha" (Hong Sang-soo)
"Heartbeats" (Xavier Dolan)
"Life Above All" (Oliver Schmitz)
"The Lips" (Ivan Fund and Santiago Loza)
"Octubre" (Daniel Vega)
"Rebecca H. (Return to the Dogs)" (Lodge Kerrigan)
"R U There" (David Verbeek)
"Simon Werner Has Disappeared" (Fabrice Gobert)
"The Strange Case of Angelica" (Manoel de Oliveira)
"Tuesday, After Christmas" (Radu Muntean)
"Udaan" (Vikramaditya Motwane)
MIDNIGHT SCREENINGS
"Blackhole" (Gilles Marchand)
"Kaboom" (Gregg Araki)
SPECIAL SCREENINGS
"Abel" (Diego Luna)
"Chantrapas" (Otar Iosseliani)
"Draquila: L'Italia Che Trema" (Sabina Guzzante)
"Inside Job" (Charles Ferguson)
Nostalgia for the Light" (Patricio Guzman)
"Over Your Cities Grass Will Grow" (Sophie Fiennes)