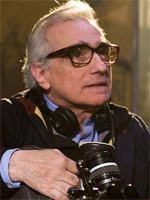 If you can't fix it, you've got to stand it. And so it is, apparently, with me and 3D.
As I've written before, I'm not a big fan of Hollywood's favorite rediscovered gimmick. As a gee-whiz novelty — expertly embellishing the odd genuine event film like "Avatar" — it works a treat. As a now-regular moviegoing ritual — awkwardly grafted onto dreary blockbusters like "Clash of the Titans" and "Alice in Wonderland," making them even more invasive and exhausting than they need to be — it's rapidly becoming an irritant. And until some genius fashions 3D glasses that can fit comfortably over an existing pair of spectacles, I'll remain hostile.
Clearly, however, I'm going to have to find a way to love the third dimension, as it continues to seep outside the effects-driven blockbuster box, and even into the arthouse. The gentrification, if you will, of 3D took a forward leap this week with the news that both Martin Scorsese and Werner Herzog will be shooting their next projects in 3D.
While Herzog will be applying the technology to a documentary on France's Chauvet Pont d'Arc Cave, an archaeological site containing the world's oldest known cave paintings, Scorsese is taking a more mainstream leap, using 3D for his next feature, the children's literary adaptation "The Invention of Hugo Cabret."
Herzog's project sounds about as apt a candidate for the technology as I can imagine; not being familiar with the bestselling source material for Scorsese's film, I have no idea what possibilities this opens up. Given that his latest is, if nothing else, a supremely agile craft showcase, I trust the director has something a little more sophisticated in mind than hurling random objects in the direction of the audience.
Set in 1930s Paris, "Cabret" is apparently takes inspiration from the life and work of pioneering French filmmaker Georges Méliès — Ben Kingsley, fresh off "Shutter Island," will star as Méliès himself. Perhaps, then, the use of 3D is an apt nod to an artist who would have been all over the technology himself. Still, to get me back in Scorsese's corner, "The Invention of Hugo Cabret" will have to overturn my wariness of both 3D and worryingly ubiquitous child star Chloe Moretz. Nobody said it would be easy.