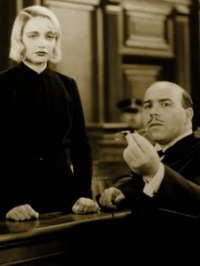 Catch up with the idea behind this series here.
1937 saw Spencer Tracy win the first of his back-to-back Best Actor Oscars and Luise Rainer win the second of her back-to-back Best Actress Oscars. The Academy wasn't as in to spreading the wealth in those days as it is now. Just ask Meryl Streep. In fact, 1938 saw Frank Capra win his third Best Director trophy in five years, Walter Brennan win his second Best Supporting Actor gong in three years and Walt Disney took home his seventh consecutive bald guy for Best Animated Short.
1938 was also notable for the Best Picture nomination of "Grand Illusion," the first foreign film to ever be nominated in that category. It wouldn't happen again for 31 years and is still far too rare an occurrence. If the Academy had been able to look past their nose, they would have noticed these choices.
1937 – "Confession" (Joe May)
Sorry to get all obscure on you guys, but I don't think this film is available on DVD or even VHS. I can't even remember why I saw it, but I watched it taped off of Turner Classic Movies onto a VHS and buried in my film school's archives. I think perhaps my Critical Studies professor was trying to get me pumped about Kay Francis. Whatever the reason, I couldn't have been happier to stumble upon such a wildly schizophrenic, experimental melodrama.
In yet another example of old school Hollywood providing women with fantastic roles, Francis plays a woman on trial for murder and begins her defense with "What do you all want of me? I killed him, sentence me". If you need a badass introduction to a character, you've got one. Then when new evidence is threatened to be introduced, she agrees to testify completely, as long as the courtroom is cleared. Then the flashbacks start.
If ever there was a detestable film trope, it's the flashback and if ever there was a detestable film genre, it's the melodrama, yet somehow this film works, primarily due to a smart script, the lead performance of Francis, and the insane direction of Joe May. Legend goes that Warner Bros. saw a screening of German film "Mazurka" in Berlin and quickly bought the rights. Rather than release the film, they buried it and ensured it never got seen in the States and instead remade it as a vehicle for Francis.
May saw the film and became obsessed with it, screening the film on the set continuously and remaking many scenes shot by shot. The result is a rare Hollywood film with expressionistic camera angles, harsh lighting, bizarre music and even special optical effects to convey a climactic "out of body experience". A prime example of the type of film that deserves to be seen but was never singled out as a "classic" and thus, remains widely unavailable.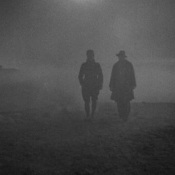 1938 – "Port of Shadows" (Marcel Carné)
Those with film knowledge that begins and ends with contemporary Academy Award nominees will recognize this film as the one that plays in the background of some scene in "Atonement." Which scene, I don't know, because I didn't see "Atonement," but I'm fairly certain that it couldn't hold a candle to the film it pays homage to by including it. Marcel Carnè's drama has been called "Poetic Realist," and that only makes sense in that he strives for emotional truth but accomplishes it through theatricality (as he does again later in "Children of Paradise.")
Here, Jean Gabin simply commands the screen, in a role light on dialogue and heavy on smoldering angst, as a soldier escaping the front lines to a quiet seaside town. As the title implies, the town is a sort of underworld of pent-up emotions, secrets and shadows. Fog embanks nearly every scene, giving the lighting and cinematography a noir look before noir had even been coined.
\One of the inhabitants is Michèle Morgan, a woman who just happens to be in need of a smoldering angsty hero. Morgan's role suffers a bit from being underwritten, and as doomed romances go, it's predictably plotted, but exquisitely executed. The inevitable highs and lows of the relationship unfold with breathtaking passion.
Carnè's vision can only be described as dream-like in the way he subtly shifts tone, the slightly off-kilter sets and the gentle, eerie score. All of the elements combine to create an experience as much as a movie. Just as watching "Let the Right One In" can subconsciously make you think someone cranked up the air conditioning, you can almost smell the sea air while you watch "Port of Shadows."
Those are my picks and yes, I've seen "Bringing Up Baby." It sucks. What do you guys think?