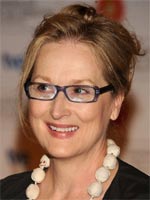 Any Meryl Streep fans still sulking over over her twelfth consecutive Oscar loss last month should dry their eyes right about now. This morning brings the news that the actress has just been honored by a rather tonier Academy, as the American Academy of Arts and Letters has appointed Streep to their ranks.
Streep joins former honorees like Martin Scorsese and Woody Allen in the American Honorary class of membership, reserved for individuals whose work fall outside the institution's traditional remit of music, art and literature. She is, however, the first person to be named solely for her achievements in acting.
If that's not better than a little gold statue, I don't know what is.
A quick glance through the list of the Academy's living members (ranging from Philip Glass to Frank Gehry, Toni Morrison to Stephen Sondheim, Sam Shepard to Philip Roth) drives home the stunning scale of this honor.
It's not just that it confirms Streep as a national treasure — that was obvious already — but that her collected performances, invariably of other people's material, have been recognized as an artistic oeuvre equivalent to those of the country's most esteemed creative minds.
The president of the Academy, poet J.D. McClatchy, explained the selection of Streep and her fellow honorary inductee, conductor James Levine, as follows:
Both of this year's inductees are performing artists, and both are at the peak of their careers … James Levine's conducting and Meryl Street's acting are extraordinary examples of insight, depth and virtuosity.
Bravo. Now where does she go from here?