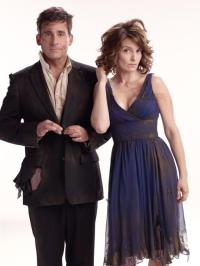 *All historical figures cited are adjusted to today's dollars.
Every studio but Fox is reporting that "Clash of the Titans" won the box office this weekend, but Rupert Murdoch and co. insist it was, in fact, "Date Night." Final results won't be unveiled until tomorrow, but for now, we have to take their word for it. And if Rupert Murdoch's word isn't valuable, I don't know what is.
So, "Date Night" is number one with $27.1 million smackers. As I mentioned on Friday, that's below the $29.9 million of "Mean Girls," but better than the $18.4 million debut of "Baby Mama," both of which also opened in April. Lesson here is that Lindsay Lohan circa 2004 or Steve Carell > Amy Poehler and Dax Shepherd. I don't see how Fox can not be disappointed with this figure. There was no other new films opening, "Clash of the Titans" was always going to capsize, and "Obsessed" opened with $29.2 million last April. Raise your hand if you even remember "Obsessed?"
Reviewers weren't great but it's word of mouth that counts here and I'm not sure that was so great either. As an action/comedy hybrid, it doesn't help that next week sees the release of an action film and a comedy so it could be a quick exit to DVD for "Date Night," where couples won't actually need to make one to see it.
"Clash of the Titans" dropped 56% to $26.9 million, but has already crossed $100 million and done what it needed to do overseas to become a success. All in all, that drop could have been worse and Sam Worthington is now officially the most famous person in the world that no one has heard of.
The only real success story out there is "How to Train Your Dragon," which dropped a tiny 13% to $25.4 million and could even be a dark horse contender for number one when actual figures come in. I've heard from multiple people of all ages that this flick is great so there could be enough gas in the tank to get to $200 million. If I listened to people, I maybe would even add $10 myself, but I don't. So I won't.
Tyler Perry's marriage may be so unsuccessful that he has to repeatedly make movies about it, but the movies themselves are doing just fine. Even a steep 62% drop can't change the fact that his pockets are already fatter thanks to modest budgets and huge debuts. Same goes for Miley Cyrus, who is headlining "The Last Song" to a very respectable total.
"Letters to God" makes an appearance at the bottom of the chart, earning a not-so-heavenly $1.1 million. But the good news is that since the Bible says it's easier for a camel to fit through the eye of a needle than a rich man to get to Heaven, the investors of this film should have no worries about their afterlife destination.
Finally, watch out for "The Girl With the Dragon Tattoo," which is slowly expanding around the country and earning impressive numbers every single weekend. Also, watch out for any actual girls with dragon tattoos, because they are probably trouble and/or have no taste.
I finally started making up ground on missed titles this week, checking out "The Exploding Girl" and "A Prophet." The former didn't do much for me but the latter is pretty great. A couple of stylistic flourishes fell a little flat for me, but overall, it's hard to argue with the power of the performances and the storytelling.
What did you guys see? Here are the weekend's top domestic grossers, courtesy of Exhibitor Relations: