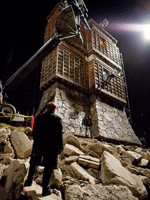 Production designer Guy Dyas has always associated himself with films that boast elaborate art direction.  Even during his early years as a concept artist, the films were design-heavy.  "Men in Black," "Wild Wild West" and "Galaxy Quest" are examples.  Later: Tim Burton's "Planet of the Apes" and elements of the Wachowski brothers' "The Matrix Reloaded" benefited from his imagination.
Dyas has only completed six films at the head of the art department, but they all carry a stamp of scale in their design — most notably in "Superman Returns" — that seem to indicate a first Oscar nomination is likely on the horizon.  (He has four guild nods, mind you.)  And as I slowly (keyword) begin to saddle up to the new season's offerings across various categories, I must say, I am and have been intrigued with the design opportunity presented in Christopher Nolan's "Inception."
Of course, most are looking forward to a mind-bending story with equally outrageous visual effects, but if we know anything about Nolan, it is that he is a monk when it comes to preserving practical filmmaking wizardry as much as possible.  So while "Inception" is sure to showcase innovative CGI, I imagine its set designs will be just as awe-inspiring — certainly if a recently released quartet of production stills and behind-the-scenes shots are any indication.
The photos accompanied Geoff Boucher's big LA Times Calendar section interview with Nolan.  Boucher teased a little of the interview last week.  Talk about a guy who instills great envy in the geek beat.
Here are the two shots that stick out to me.  The first we kind of saw in a way via the teaser trailer, but the second reminds of the Tarantino mantra: "We love making movies."  (Click for larger versions.)
Meanwhile, I was happy to see some talk of design elements in Boucher's interview.  Here's a taste:
Nolan put a premium on achieving the unreal on camera as opposed to in computer, which runs counter to Hollywood's obsession with the pixel possibilities of green screen and 3-D. With cinematographer Wally Pfister (Nolan's director of photography since "Memento") and special effects guru Chris Corbould (the man who built the Batmobile and has worked on a dozen James Bond films), the director put a premium on an old-school approach to movie magic.

Corbould's teams, for instance, built giant rotating hallways and a massive tilting nightclub set to film the startling "Inception" scenes when dream-sector physics take a sharp turn into chaos. One of the film's stars, Joseph Gordon-Levitt, spent long, bruising weeks learning to fight in a corridor that spun like a giant hamster wheel.

"It was like some incredible torture device; we thrashed Joseph for weeks," Nolan said. "But in the end we looked at the footage, and it looks unlike anything any of us has seen before. The rhythm of it is unique, and when you watch it, even if you know how it was done, it confuses your perceptions. It's unsettling in a wonderful way…we want an extraordinary thing that happens in an ordinary way. That's always been the goal."
No mention of Dyas, but I can only imagine he had a hand in that stuff.
Anyway, while I'm very much excited to see "Inception," I really hope Nolan's films don't continue to drum up the kind of rabid, foaming-at-the-mouth anticipation the last two have.  No artist can sustain (and, indeed, satisfy) that kind of consistent expectation forever.
Read the rest of the Boucher interview at the LA Times.  And here is his on-stage Q&A with Nolan and his producer/wife Emma Thomas from last weekend's WonderCon convention in San Francisco.  It leads off with — imagine that — a query concerning "architecture," plus more about that moving set (which, Nolan says, was largely inspired by his childhood love of Stanley Kubrick's "2001: A Space Odyssey"):
(By the way, those plot specifics we posted exclusively in August?  The ones that amounted to little more than a standard plot description that the studio would have to put out there at SOME point if they wanted people to actually know what the film was about and, therefore, go see the movie?  The ones that left all the fanboys up in arms, a number of them claiming it was beneath us to post such a thing?  Yeah, Nolan is pretty much out there verifying all of it, three months in advance of release.)